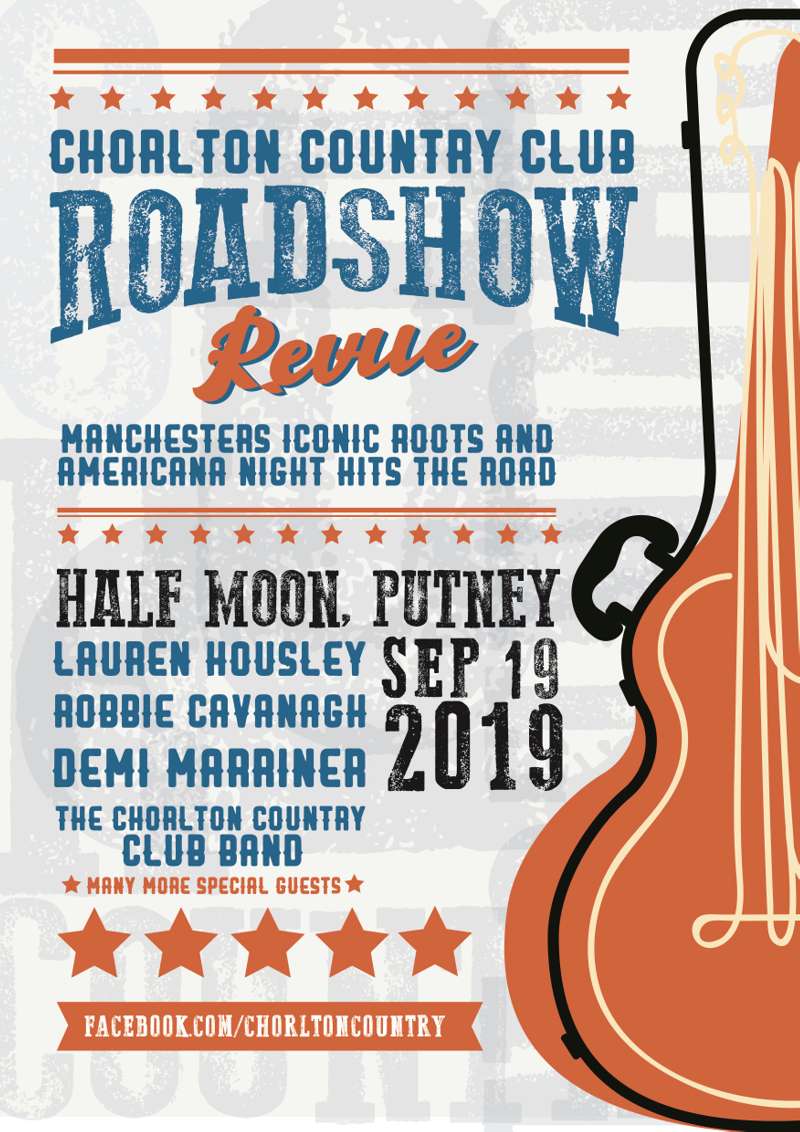 Half Moon presents:
Chorlton Country Club Roadshow Revue
Chorlton Country Club Roadshow + Lauren Housley + Robbie Cavanagh + Demi Marriner + CJ Hillman
£13.50 adv / £15.50 door
Entry Requirements: 18+ after 7pm
CHORLTON COUNTRY CLUB ROADSHOW REVUE Lauren Housley, Robbie Cavanagh, Demi Marriner, CJ Hillman & Special Guests
The Half Moon in Putney welcomes Manchester's iconic Roots and Americana night 'The Chorlton Country Club', as part of their new UK tour.
Chorlton Country Club take their iconic roots music collective and live music experience out on the road in September and October, featuring a host of special guest performances from the likes of Lauren Housley, Robbie Cavanagh, Demi Marriner and many more!!
Don't miss it!
Line Up
What started as a local jam night for roots music enthusiasts Thomas Dibb, Mark Lewis, Lauren Housley and multi AMA award-winner Chris Hillman (Billy Bragg, Yola), has blossomed into one of the North's favourite spots to here the best in UK and overseas Roots, Americana, Blues and everything in between.
The monthly night has seen the likes of Robert Vincent, Danni Nicholls, The Honey Dewdrops (Virginia) and Canadian Bluegrass trail blazers The Slocan Ramblers grace the stage at one of Manchester's hidden gems, The Carlton Club in Whalley Range.
In addition to the core band members, Chorlton Country Club play and record with some of the UK's finest and most experienced musicians, including Harmonica player Clive Mellor (Richard Hawley, Liam Gallagher, James) and famed session drummer and teacher Dave Hassell, both of whom perform with the incredible Manchester line-up Stevie Williams and The Most Wanted Band.
Recent adventures for Chorlton Country Club have seen them represent The Arts Council UK and British Underground at Folk Alliance International (FAI) in Montreal. As well as performing six showcase slots at the festival, Mark and Tom also undertook a commission to make a documentary about FAI, under their new independent film company Northern Cowboy Films.
To celebrate the release of their debut record "Chorlton Country Club Volume I" on their label Triple C Records, the Chorlton Country Club Band and some of their favourite guest artists are hitting the road!!
A woman walks into a bar and asks: "Do you want some live music?" In no time, the place is ringing to the vibrant and original sound of one of the most notable new voices in Britain.
The artist in question is English chanteuse Lauren Housley, who's been tirelessly honing her stage and song craft, playing regular gigs for her ever-expanding fan base as well as some of those impromptu ones, and winning widespread acclaim for all of them. Supporters include BBC Radio 2's Chris Evans, Bob Harris and Terry Wogan, Prudential BluesFest and Live Nation.
All of that groundwork by the native of Rotherham in South Yorkshire, now based in Manchester, has culminated in 'Sweet Surrender,' the excellent debut album she has unveiled this year. Housley's songs, all written with longtime creative partner Thomas Dibb, evoke the same ambience as some of her forerunners among strong, empowered female artists, such as Janis Joplin, Eva Cassidy and Lauryn Hill.
To name just two examples, the slow-burning intensity of the ballad 'Show Me What Love Is' turns heads every time she sings it. Meanwhile, the upcoming single 'Ghost Town Blues' moves stylishly among its soul influences from Massive Attack to Motown. And they're just a taste.
"I think I've always had an ability to connect with certain emotions," says Lauren of her emotive style. "I've been writing songs since I was about 13, but back then, I probably didn't know that I was. It was just a form of expression at the time."
Around a packed datebook of gig engagements, such is her popularity, Housley made 'Sweet Surrender' in three different locations, with some of the best up-and-coming young musicians Britain has to offer. Sessions included time in Ireland at the studio owned by Dave Keary, guitarist with Van Morrison, and featured his son Alan playing bass.
Further recording took place in Wallasey, on Merseyside, with multi-instrumentalist and producer Steve Parry, whose extensive credits include being musical arranger on 'The Voice.' Producer Mark Lewis then recorded some tracks and ultimately oversaw the whole set. "He's ended up developing the whole album," says Lauren, "which is really nice, because it's given it an all-round feel."
Housley grew up in a household where her parents were "massive music fans," and although there's no professional lineage, her dad loves to sing and does a great Elvis. In her pre-teens, Lauren was a British aerobics champion, travelling the country and practising every day. Then came her formative songwriting, and when her mum came home with an Eva Cassidy album, a creative light really went on.
"That really touched me," she remembers. "I learned a lot of the songs, and that's when I first started imagining myself being able to do something like that. She could sing anything, it absolutely blew me away. Imagine walking into a small bar and seeing her sing. That's what people were doing. I hope that's fed into the way I perform."
Housley went on to study theatre at university, living in Newcastle for five years (and yes, the hints of a Geordie accent are still discernible). "The whole time, it felt like I should have been singing. I found the path into dance and theatre, but I think I held music on a bit of a pedestal. When I met Tom, he got the confidence out of me to sing, and since then, that's all I've been wanting to do."
Housley and Dibb have already been writing together for eight years. "We've come through a huge amount of approaches and genres," she says. "As anybody does, just developing and honing the craft, if you like. But we play off each other's strengths and weaknesses. There's definitely something to be said for being honest, and we both are. We're aware of each other's feelings, but at the end of the day when we're working, the song comes first. If we don't think something's right, we're not afraid to say so. We make a good songwriting team."
The 'One Step Closer' EP, with its distinct Motown inspirations, showcased a soulfulness which is still very much in evidence on the debut album, alongside her country influences, with pedal steel and dobro instrumentation. Lauren has even formed a country band as a fun side project, the splendidly-named Chorlton Country Club, who recently had one of the sisters from ultra-cool Swedish duo First Aid Kit guesting at a spur-of-the-moment gig.
"Country is what I've been listening to a lot recently, and it's definitely made its way in," she says. "But when I set out to do the album, I just wrote the songs and gave them what they needed. I didn't think about the genres too much." Another current example of her versatility has Lauren as a member of the Kaleidoscope Orchestra, a Manchester dubstep and drum 'n' bass collective.
So, here's to the continuing emergence of an artist with a genuinely infectious passion to perform. "I'm a full-on Gemini," says Lauren. "I've definitely got two sides to myself as a performer. I love singing and writing ballads and really intimate songs, but I've also got a fun side and I like to get down and dirty and belt some tunes out." Whether it's at a show or on 'Sweet Surrender,' make sure you're in the room when she does.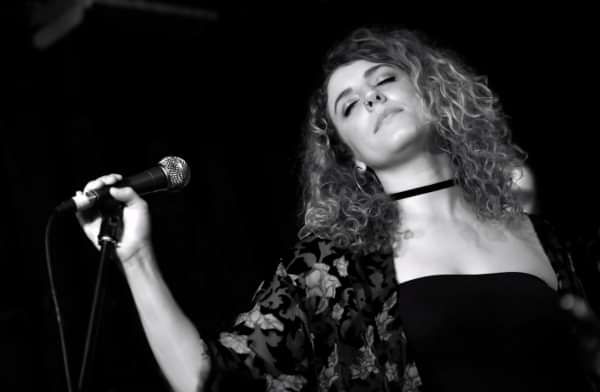 A self confessed devotee of 'real music', Robbie Cavanagh is not defined by genres. Taking influence and inspiration from old school country and western, modern americana, pop, blues, soul, folk, rock, metal and everything in between. The only rules are good musicians, real instruments, great microphones and performance with emotion. Capturing sound, not producing it. Robbie Cavanagh performs self penned, unscrubbed tales of heartbreak, loss, love and discovery, and when he puts pen to paper, he lives by his own words. 'The more you wrestle with an idea, the more contrived it becomes'. Robbie writes with honesty, emotion, and most importantly; instinct. Robbie's sophomore record (To Leave/To Be Left, released on At The Helm Records, Oct 2017) proves that he is quite right to trust those instincts. To Leave/To Be Left frames 11 original tracks, recorded almost entirely live, full of feeling, passion, tasteful instrumentation and instinctive performance, captured with good quality, warm, vintage microphones. Though the record has received high praise from fans and industry professionals, it's Robbie's live performance that has really turned heads and attracted much deserved attention. Stepping out on stage with his long hair, Levi's and a stetson, a guitar over his shoulder and a well earned confidence in his chest, Robbie can hardly open his mouth without too opening his heart. Performance is Robbie's way of channelling emotion and his passion and energy are incredibly contagious. Robbie and his band celebrated the release of the new record with a sold out headline tour around the UK, as well as making their way onto many UK festival stages this summer, including Black Deer, BlueDot, Cornbury, Maverick, Buckle and Boots and Silverstone Woodlands. Robbie also worked with BBC Radio 2's Whispering Bob Harris, recording live sessions in his house and his studio and being played on his Radio 2 show numerous times. Bob's company 'Under The Apple Tree' have also been heavily involved with Robbie's music, inviting him to perform at festivals and showcases across the UK as well as Bob hosting Robbie's record launch show in Harrogate in 2017. Chris Difford has invited Robbie to his annual songwriting retreat, sponsored by The Buddy Holly foundation, two years running where he has written with many successful writers from UK and USA. After working with youtube channel 'Mahogany' to release a live, solo performance of his single 'Godsend', Robbie saw the video clock up over 180k views, and over 300k streams on spotify. American Artists 'Us The Duo' asked Robbie to open for their 16 date European tour, providing a huge platform to develop his ever growing fanbase. After being asked to perform at The Americana Music Association Showcase in London, January 2018, Robbie went on to be invited to perform at the AMA-UK and Under The Apple Tree showcases at Americana Fest in Nashville, Tennessee in September 2018.
'The House Of Songs' invited Robbie to take part in their week long writing retreat in Bentonville, Arkansas where he wrote with other artists from around the world, before showcasing the new material at live shows around Arkansas, as well as adding to his list of appearances for Americana Fest in Nashville. Robbie is still writing and finalising songs for a third record, whilst planning UK shows for the end of the year and a return to America early 2019.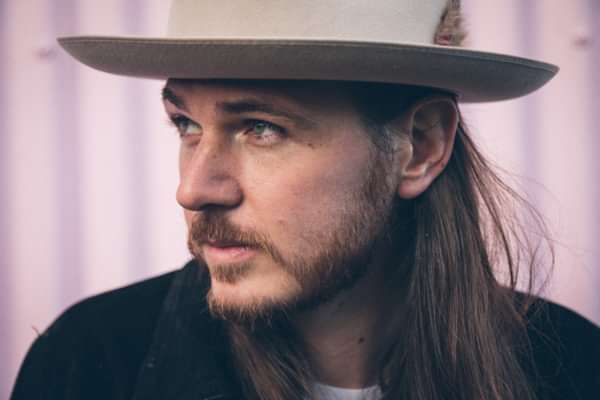 *The name Demi Marriner is common tongue in the UK music scene, and for good reason.
Armed with a stack of notebooks, a head full of ideas and a collection of incredible jackets, Demi Marriner is a songwriter well worth keeping track of. Demi's passion and emotion is so contagious, it is almost impossible to not be captivated from the offset. Riding shotgun alongside her unique, outstanding songwriting are Demi's powerful, emotive live performances. Demi's confidence and professionalism on stage sparkle even more than her guitar strap and matching capo. Whether she's pouring out her heart in an intimate solo shows, or kicking down the saloon doors with her incredible backing band, Demi knows how to impress.
After a successful debut EP 'Tracks and Trails', and follow up EP 'Dandelion' reaching numbers 1 and 2 respectively in the iTunes UK Country Album Charts, Demi is currently in the process of creating her debut album.
The southwest songstress' tassel boots have already graced many a great stage, including; The Symphony Hall supporting Rufus Wainwright, the Town Hall with Sam Outlaw, the Jazz Arena at Cheltenham Jazz Festival, the main stage at Wychwood Festival, the main stage at Buckle and Boots Festival, and the Forest stage at 2000 Trees. Demi has made her mark performing in the UK, Ireland, Europe and Canada and America, performing at AmericanaFest in Nashville, Countryfile at Blenheim Palace, Silverstone Woodlands, and Beardy Folk festival to name a few. She has also had the joy of supporting artists such as Jon Gomm, Tia McGraff, BJ Barham (of American Aquarium), Cattle & Cane, Wildwood Kin and Elles Bailey.
Following the physical release of her live one microphone 5 track EP, Tales, and a songwriting trip across America, Demi is constantly creating new music and is set for an exciting 2019. The Tales EP will be available across all online platforms at the end of 2018, with the live music videos for each track currently already available on YouTube.*