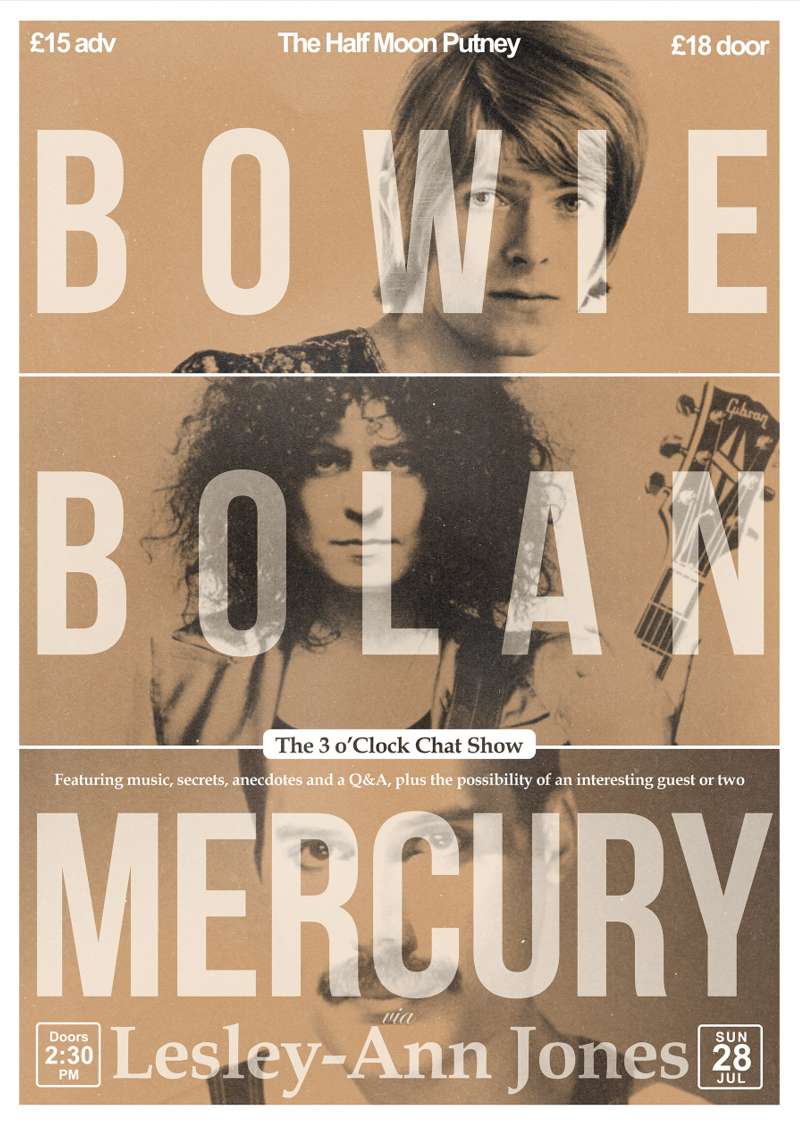 Half Moon presents:
An Audience with….Bowie, Bolan, Queen, Paul McCartney and the Rolling Stones via Lesley-Ann Jones
Lesley-Ann Jones
£15 adv / £18 door
Entry Requirements: 18+ after 7pm
General Admission (e-ticket)
The 3 O'Clock chat show
A fun and informal jaunt through Lesley-Ann Jones' fascinating career, beginning with 6 years as a showbiz feature writer on a Fleet Street national newspaper, during which she toured with Paul McCartney, the Rolling Stones, Elton John, Queen, David Bowie and many more.
Featuring music, secrets, anecdotes and a Q&A, plus the possibility of an interesting guest or two.
Line Up
• Respected music journalist, author, biographer, presenter and speaker from Kent, England.
• Mother of 3 children.
• Has interviewed global figures as diverse as Frank Sinatra, Tony Blair and HRH Princess Margaret
• Her debut memoir, 'Tumbling Dice', will be published in paperback original and ebook in April 2019
• Her Freddie Mercury biography 'Bohemian Rhapsody', a Sunday Times Bestseller, has sold more than 70,000 copies.
• Quote from an Amazon reviewer: "One of those presents you end up wanting to keep!"
• She filmed a Pampers nappy commercial with her baby daughter for Saatchi & Saatchi. It was aired across Europe for 18 months, one of the brand's most successful-ever ads.
• She appeared weekly for several years with late DJ Tommy Vance on BFBS Forces Radio, becoming a familiar voice and name to thousands of British troops posted around the world.
• Lesley-Ann working then for the Daily Mail, was kidnapped in LA by Ozzy Osborne.
• Worked with Linda McCartney on a memoir that Paul didn't want to be published
• John Hurt offered her £100,000 to buy her unborn firstborn.
PUBLISHED BOOKS:
• Marc Bolan "Ride A White Swan"
• Kylie Minogue "The Superstar Next Door"
• David Bowie "Hero"
• Freddie Mercury "Bohemian Rhapsody: The Definitive Biography"
• John Lennon "Imagine"
• Naomi Campbell "The Rise and Rise of the Girl from Nowhere"
Lesley-Ann also teaches creative writing at workshops in the UK and internationally; coaches adults and children in writing, and acts as a script consultant.
For more information: