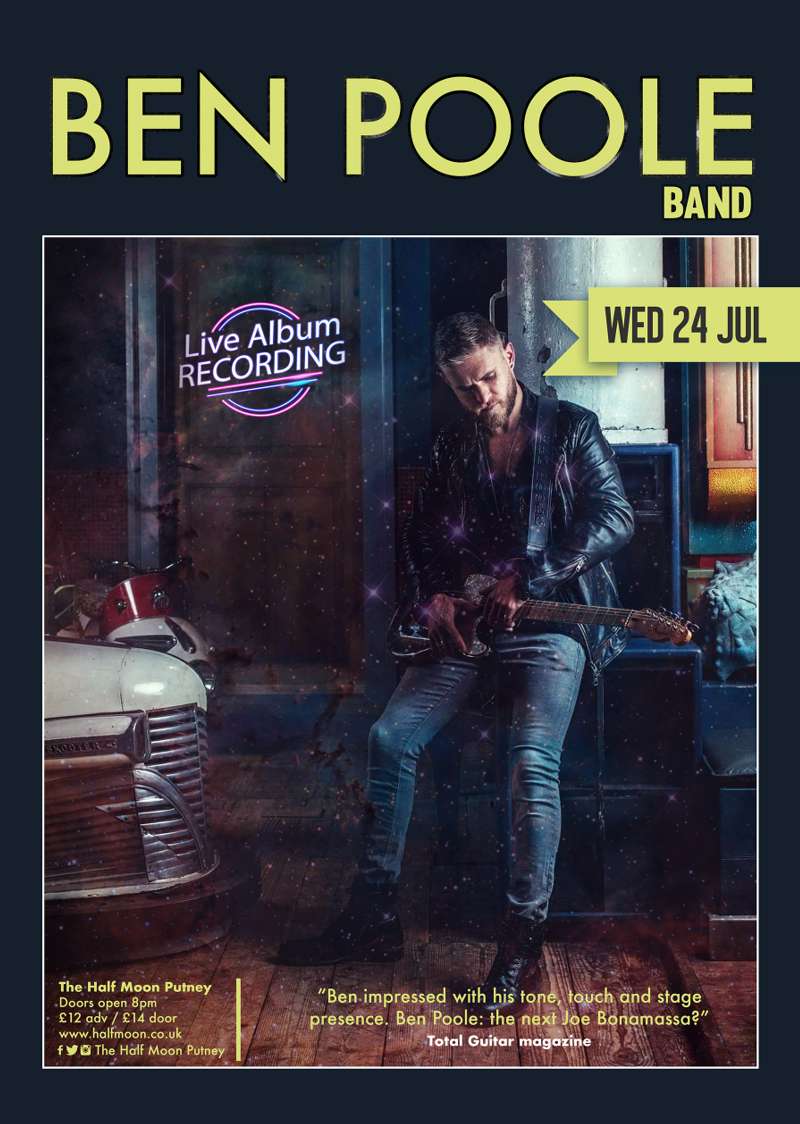 Half Moon presents:
Ben Poole
Ben Poole
£12 Adv / £14 Door
Entry Requirements: 18+ after 7pm
Twenty-eight year old Ben Poole is currently being described as one the most exciting young Rock, Blues & Soul artists to come out of the UK for a long, long time!
Please note this show is being recorded for an exclusive double live album.
Line Up
'Time Has Come' was not only the title of Ben Poole's previous studio album – but also the consensus of the press, punters and star players who have caught this British gunslinger on his rise from hot-tip to headline act. Now having just finished a 140 date, 19 country tour of his latest and highly anticipated album 'Anytime You Need Me', it appears things are only going from strength to strength with this now well established Blues, Rock & Soul guitarist, singer and songwriter.
Ben has moved fast since he burst out of the Brighton Institute Of Modern Music onto the post-millennial scene. We've had the breakthrough debut album (2012's 'Let's Go Upstairs'). We've had the rocket- fuelled live release (2014's 'Live At The Royal Albert Hall'). 'Time Has Come' fused both sides of Ben's musical personality, capturing the gritty velocity of his shows in a studio context. "We really wanted to get a balance between a live sounding album and a well-produced, polished-sounding one," he explains. "There's a rawness and edginess, but also a subtlety and intimacy. I think we captured what I'm all about with that album, but with the new album the small but amazing team around me pushed me even further as an artist, and as a result we've created something way beyond what I could have ever imagined I was capable of."
"Truly astonishing" – Classic Rock Magazine "F***ing amazing!" – Jeff Beck "A REALLY good player" – Gary Moore "So amazing!" – Beth Hart "Killer!" – Kenny Wayne Shepherd "Unbelievable!" – Richie Kotzen "Exudes class & prowess" – Guitar Techniques Magazine "Ben Poole is the full package" – Maverick Magazine "Definitely one to watch" – Guitarist Magazine "A really fresh sound and style" – Paul Jones (BBC Radio 2) "This is a young man to look out for as he is no doubt a rising talent" – Blues Matters Magazine
When you hear comments such as the above from some of the greatest guitar players ever, some of the most respected blues/rock/soul artists in the world today, and some of the leading magazines and radio presenters in Europe, you just know that they have heard something very special.