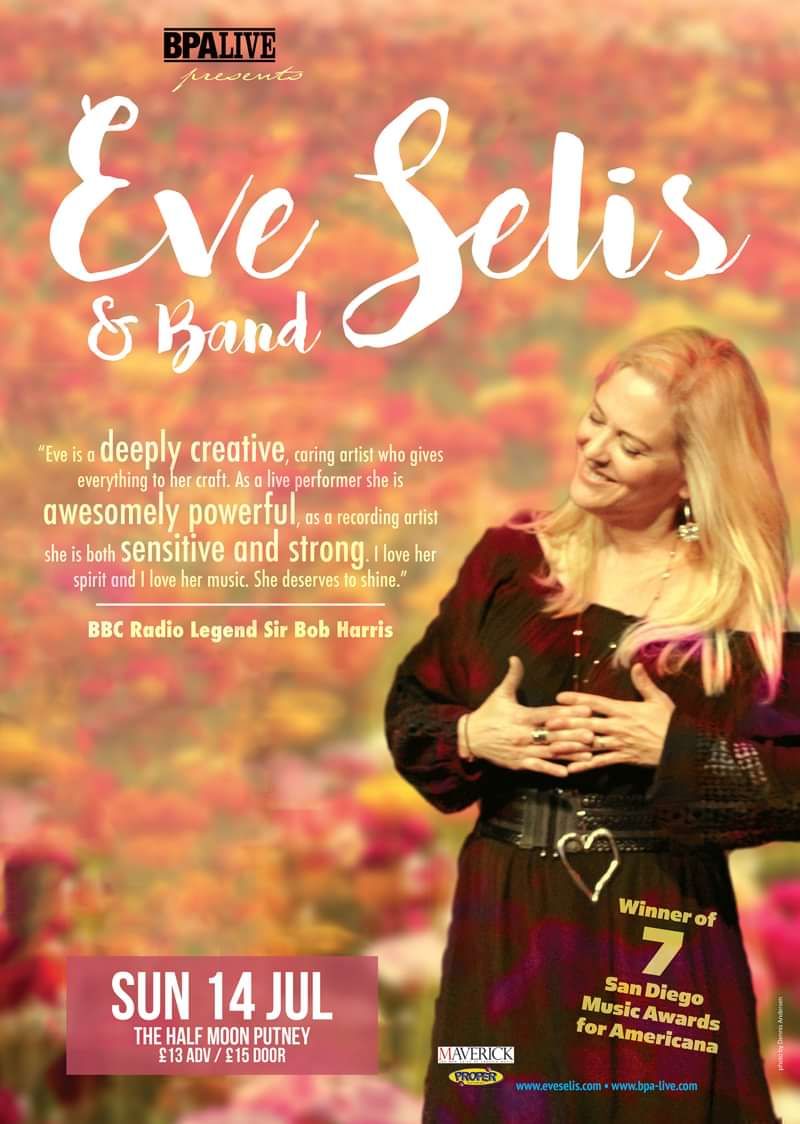 Half Moon presents:
Eve Selis & Band
Eve Selis & band
£13 Adv / £15 Door
Entry Requirements: 18+ after 7pm
General Admission (e-ticket)
Eve Selis is a Country, Rock and Pop artist from San Diego, California. She returns with her stellar band for a three-week tour with fire in her bones and new songs in her heart.
On See Me With Your Heart (her 9th studio album), produced by GRAMMY-award winning producer Kenny Greenberg (Allison Moorer, The Mavericks, Joan Baez), Eve Selis delivers 11 songs forged in the fires of physical, emotional and spiritual healing.
"Eve is a deeply creative, caring artist who gives everything to her craft. As a live performer she is awesomely powerful, as a recording artist she is both sensitive and strong. I love her spirit and I love her music. She deserves to shine." — BBC Radio Legend Sir "Whispering Bob" Harris
Line Up
"Unconditional love is a concept that runs throughout the songs on this CD, with unconditional love of myself being the hardest to accept. These songs look deep into the truth of my life as I am today. I had to face the wounds without flinching and learn to celebrate the scars. We all have them and they make up who we are. Instead of being ashamed of the scars we should rejoice. It means we've healed, and that ultimately, 'Love Has The Final Say.'"
Greenberg and his team of Nashville's finest added a new dimension to Selis' music, creating at once a vast sonic soundscape for her powerhouse vocals and a lush intimate backdrop for the most personal songs of her career. See Me With Your Heart, her first album in nearly five years, redefines who Eve Selis is as a singer, a songwriter and as an artist.
You're So Vain (Red Couch Sessions) Anyday (Live @ Maverick Festival) Street That I Grew Up On