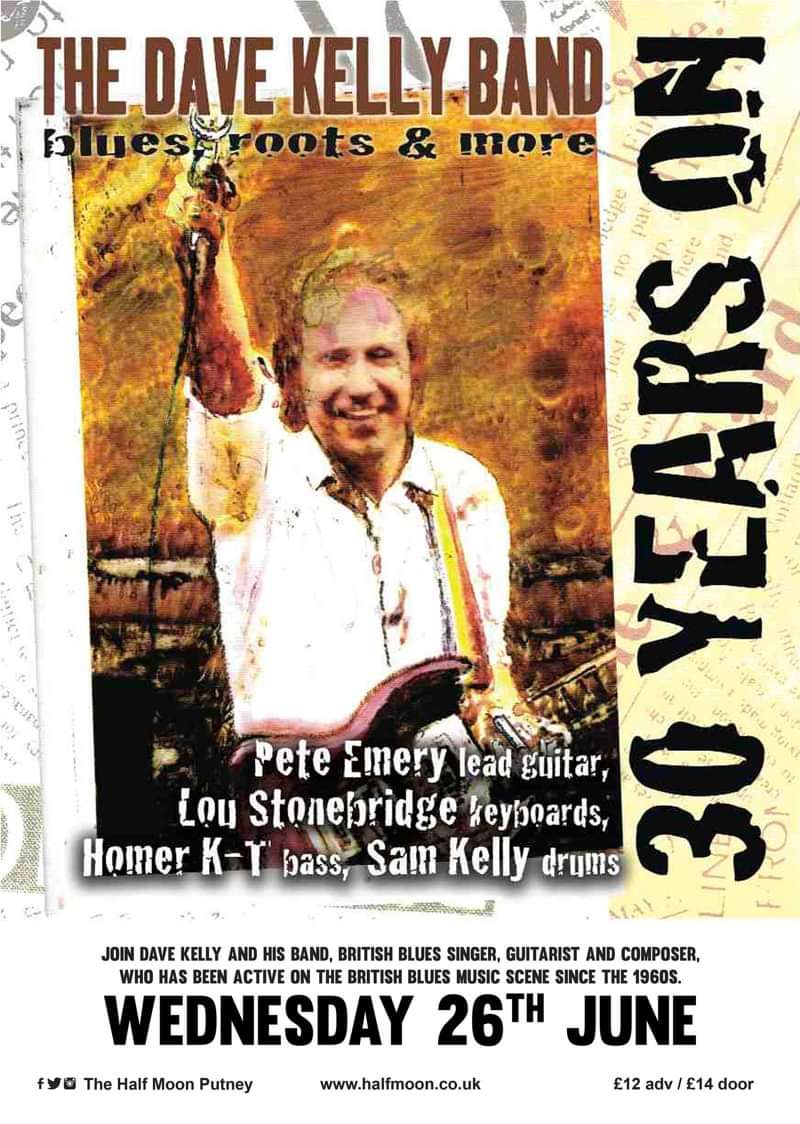 Half Moon presents:
The Dave Kelly Band
£12 Adv / £14 Door
Entry Requirements: 18+ after 7pm
Join Dave Kelly and his band, British blues singer, guitarist and composer, who has been active on the British blues music scene since the 1960s.
Line Up
Dave Kelly, founder member of The Blues Band with Paul Jones, Hughie Flint & Tom McGuinness thirty five years ago. When The Blues Band started back in 1979 Dave was already a seasoned blues artist with a reputation across the world. In the early sixties he started performing acoustic, mostly Mississippi style blues, in folk clubs. His first performance was a floor spot at The Half Moon Putney in 1964 - a session run by Gerry Lockran, Cliff Aungier & Royd Rivers. In 1966 he went to the USA and played at Gerde's Folk City in New York where he was invited to join three bands – but declined - wonder who they were ! On returning from the States he joined The John Dummer Blues Band as lead vocalist and guitarist. It was with The Dummer Band that he made two UK tours backing John Lee Hooker and one with Howlin Wolf also played with Freddie King. After leaving the JDBB late in '69 he went back to solo performing and toured and recorded with the legendary Eddie 'Son' House. Since then he has recorded a TV show with, and backed in concert, Buddy Guy and Junior Wells as well as continuing to tour with The Blues Band He won the British Blues Awards acoustic artist of the year for five consecutive years and so is kicked up to the House of Lords and not entered any more. The Blues Band continue to tour. More recently he has toured in acoustic duos/trios with Paul Jones, Maggie Bell, Long John Baldry as well as regular tours with Christine Collister and The Travelling Gentlemen In late 2012 Dave released, on Hypertension Records, a new album entitled: Dave Kelly - Family and Friends. Featuring tracks with various family and friends recorded over the past 45 years. Guest include: Jo-Anne Kelly, Eric Bibb, Long John Baldry, Maggie Bell, Chris Barber, Jona Lewie, Christine Collister, Chuck Leavell, Paul Jones, Howlin Wolf amongst others. July 2013 he played solo at The Vancouver Island Music festival, whilst there was invited to play onstage with Albert Lee & James Burton. As they left the stage James Burton put his arm around Dave and said "Dave - man - I love your voice". Coming from Elvis' guitarist and musical director, Dave took this as an enormous complement.
Footage from Vancouver Island Music Festival:
https://www.youtube.com/watch?v=wrxRnyWT5Tg Two More Bottles of Wine
https://www.youtube.com/watch?v=7zGEVIWpQns Dock of the Bay
Dave Kelly Band Members: The Dave Kelly band has existed sporadically since 1982 with various settled line-ups including Mick Rogers, John 'Irish'Earle, Lou Stonebridge Steve Donnelly, Tex Comer, Ed Deane, Pick Withers, Marcus Cliffe, Pete Emery, Peter Filleul to name a few.
The current band is a five piece – all family members: Pete Emery lead guitar – husband of Dave's late sister Jo-Anne. Pete was in the Bristol group The Deep in the sixties, then a later John Dummer Band, before becoming Jo-Anne's guitarist and husband. More recently he can be seen with Debbie Giles
Sam Kelly drums – the other Sam Kelly, both drummers know and admire each other, having made contact when Dave's son Sam was sent a cheque for a performance in a video he didn't remember recording. He contacted the other Sam Kelly who suggested that if it were possible to see the video it could easily be decided who would have the cheque ! It turned out to be son Sam's cheque. Sam played with The Blues Band, initially 22 years ago when he was 17 after Rob Townsend broke his wrist at soundcheck at Wimbledon Theatre. He has since depped for Rob on several occasions. He has also played with Tom Robinson, Steve Simpson, and toured with Dave & Christine Collister replacing Pick Withers in The Traveling Gentlemen. For many years he played with the Folk-rock band Circulus. His various other bands have taken him to festivals in Austin, Texas, Australia & China.
Homer Kelly-Tarrant bass guitar and vocals– Homer is the youngest male Kelly offspring and had toured twice with Dave & Christine Collister, in 2011 and 2013 on bass and harmony vocals. He plays bass on several tracks on the We Had It All album. He is currently in his final year studying music at Sussex Uni.
Lou Stonebridge keyboards and vocals. Honorary family member - Lou came to London in the late sixties with the band Paladin, later joining McGuinness Flint. Dave met Lou when he co-produced the first two Blues Band albums- The Official Bootleg and Ready in 1979/80. He also produced Dave's solo album of that era- Feels Right, including the radio hit ' Return To Sender'. He was in the first DKB which took to the road in late '82