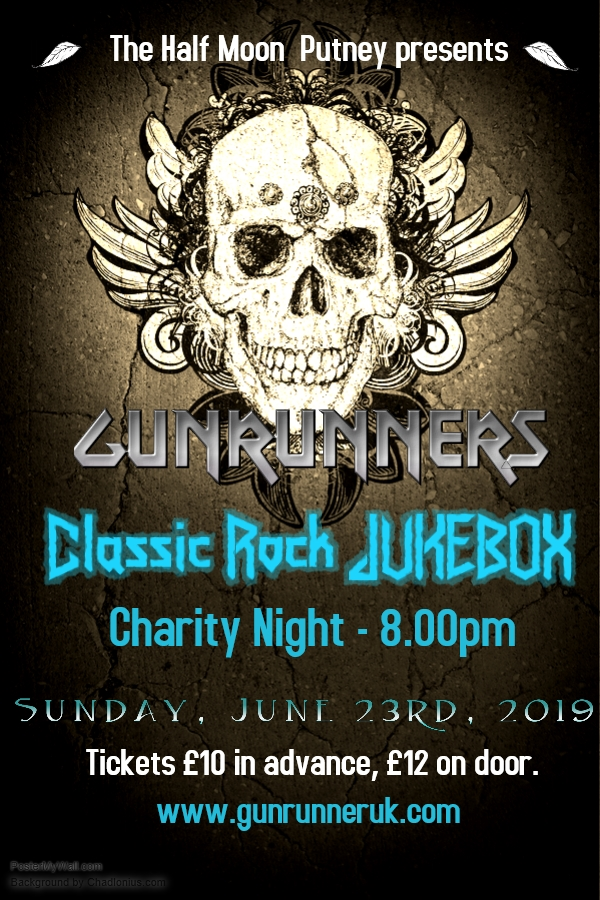 Half Moon presents:
GUNRUNNERS' Classic Rock Jukebox In Aid of Shooting Star Chase Children's Hospice
Gunrunner
£10 Adv / £12 Door
Entry Requirements: 18+ after 7pm
Highly rated six piece Essex covers band Gunrunner bring their fantastic two hour Classic Rock Jukebox show to The Half Moon, and you can expect a nostalgic night of legendary tracks from bands such as Led Zeppelin, Deep Purple, The Who, The Rolling Stones, Jimi Hendrix, Cream, ZZ Top, David Bowie, The Doors, Van Halen, AC/DC, Nirvana...The list is endless and will guarantee an evening of great entertainment featuring iconic music played by experienced musicians.
About the Charity
Shooting Star Chase is a leading children's hospice charity caring for babies, children and young people with life-limiting conditions, and their families.
Whether lives are measured in days, weeks, months or years, we are here to make every moment count. We support families from diagnosis to end of life and throughout bereavement with a range of nursing, practical, emotional and medical care.
Our bespoke support is free of charge to families and available 365 days a year. Our care service includes short breaks at our two hospices (Shooting Star House in Hampton and Christopher's in Guildford), Hospice at Home, day care, symptom management, end-of-life care, bereavement care and a comprehensive range of therapies and support groups for the whole family.
It costs £10 million a year just to maintain our current level of care. Around 10% of that income comes from government funding, so we rely on our supporters' generosity to keep the service running. What's more, we know there are many more families desperate for our vital support, so it's crucial we raise more funds to provide more care.
Line Up
The band comprise; Spencer Pratten (rhythm guitar), Barry Eaves (drums), Vince Leatt (keyboards), Markus Barth (bass), Paul (lead guitar) and Aaron Heapy (vocals).
Formed by founder member, rhythm guitarist Spencer Pratten some 20 years ago, Gunrunner have evolved from a blues orientated outfit into the current six piece classic rock covers band who specialise in recreating legendary songs from those bands that inspired and lifted so many generations over the past half-century or so. The two guitar and keyboards line up, backed by a solid drum and bass rhythm section gives the band real scope for power and depth, and whether its Zeppelin, Purple or Van Halen, the vibe is loud and accurate.
Gunrunner have played at festivals including the highly rated Cambridge Rock Festival on several occasions, and have played abroad to great acclaim.