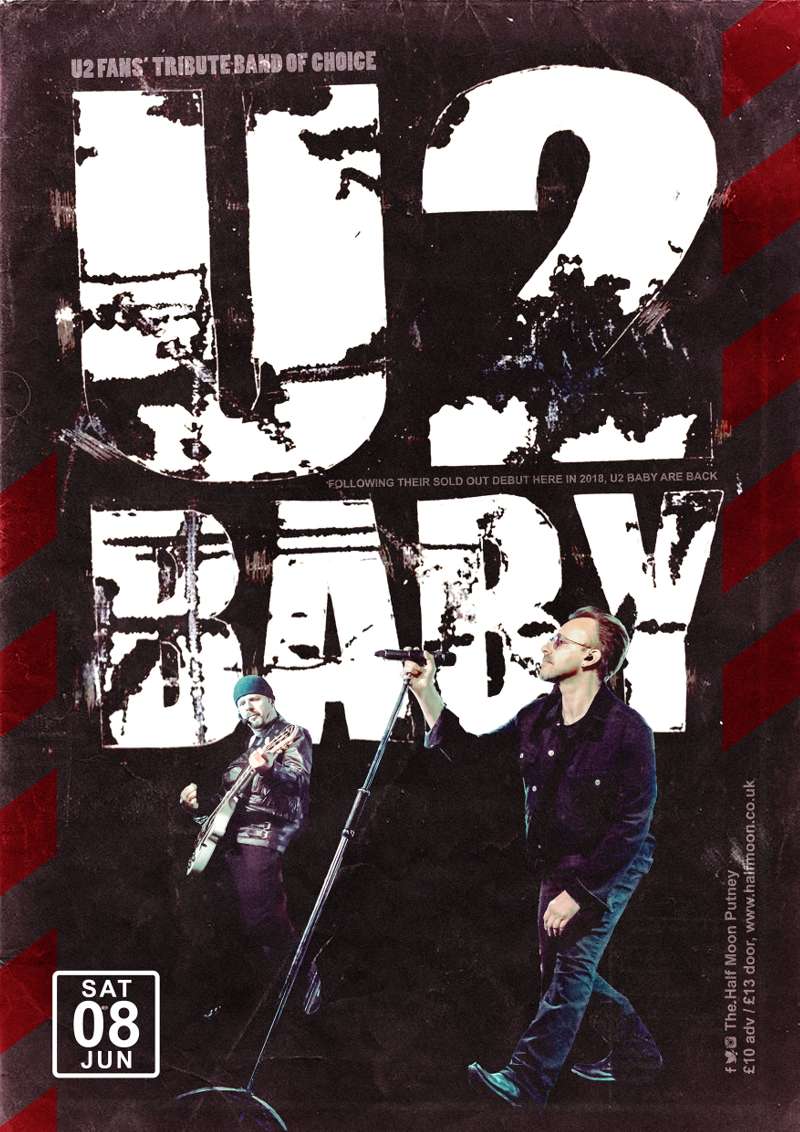 Half Moon presents:
U2Baby - the definitive tribute to U2
U2 Baby
£10 Adv / £13 Door
Entry Requirements: 18+ after 7pm
Following their sold out debut appearance at the Half Moon in 2018, U2Baby are back with their definitive tribute to U2."
"I thought U2Baby were amazing. I think I prefer them to U2 - and it was much easier to get in!" Guggi - renowned artist and Bono's best friend since the days of Cedarwood Road
Website: www.theu2tributeuk.com
Twitter: @theu2tributeuk
Facebook: fb.com/theu2tributeuk
Instagram: @theu2tributeuk
Line Up
They are the U2 tribute that was flown IN to Ireland to play at the fan parties for the U2 40th Anniversary and at the pre- and after show parties when U2 played Croke Park.
Authentic sound, look and attitude of U2. These guys have played all over the UK and Europe and are well respected in the U2 fan community as one of the closest tributes to the real thing you can get.
"U2BABY ARE THE U2 TRIBUTE THAT WE FLY TO IRELAND FOR OUR MAJOR EVENTS DUE TO THEIR AUTHENTICITY, PROFESSIONALISM AND ABSOLUTE ATTENTION TO DETAIL... WE WOULD NOT HESITATE TO RECOMMEND THEM TO ANYONE LOOKING FOR THE CLOSEST TRIBUTE TO THE REAL THING YOU CAN GET."
DARREN MOORE, GENERAL MANAGER, THE CHURCH CAFE BAR AND RESTAURANT DUBLIN
"I thought U2Baby were amazing. I think I prefer them to U2 - and it was much easier to get in!" Guggi - renowned artist and Bono's best friend since the days of Cedarwood Road
"Man for a second I thought it was U2, the sound, the clothes and the attitude..." Alf Dunstan Petersen, Norway
https://www.facebook.com/theu2tributeuk/videos/889953414495624/