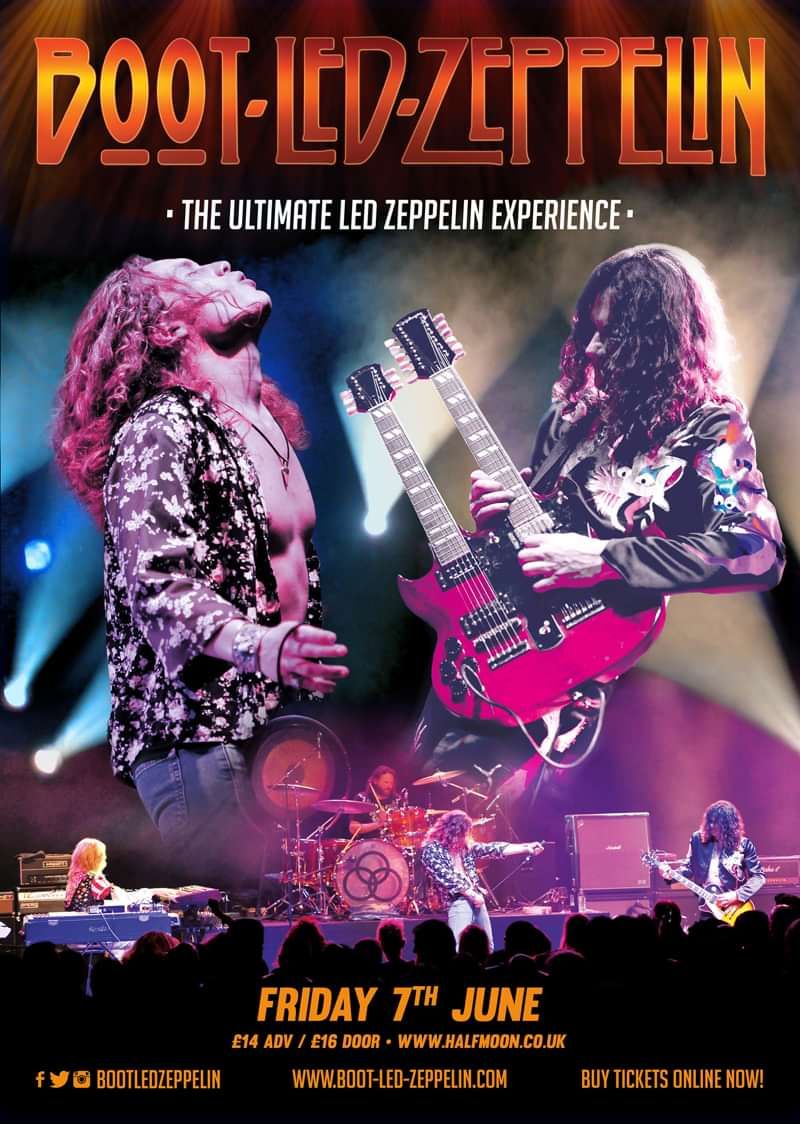 Half Moon presents:
Boot Led Zeppelin
Boot Led Zeppelin
£14 Adv / £16 Door
Entry Requirements: 18+ after 7pm
The Definitive Tribute to the Greatest Rock Band of All Time
Boot-Led-Zeppelin are internationally recognised as the ultimate tribute to Led Zeppelin. The band tour most of the UK from theatres and festivals to the most legendary of music venues.
International tours have included Austria, France, Switzerland, Kazakhstan, Malta, Portugal, Belarus and 3 highly successful Russian tours. Clients have included Channel 5, Sky TV, Harley Davidson Owners Group, to mention just a few over their lengthy career.
The band were asked to officially represent Led Zeppelin for the live finale on the BBC TV programme, "I'm in a Rock 'n Roll band", helping the nation to vote Led Zeppelin as the No.1 rock band of all time.
Boot-Led-Zeppelin capture the magic and excitement of Led Zeppelin's legendary concerts. Their close attention to detail, and sheer presence and energy on stage, ensure to take their audience on a journey back in time, delivering the ultimate Led Zeppelin experience!
Why not book a pre-concert table for dinner here
Line Up
Boot-Led-Zeppelin offers the definitive tribute to one of the world's most legendary rock bands, Led Zeppelin.
Excess? Check. Infamy? Check. Deals with the devil? Maybe. But as much as intrigue and mystery still surrounds the band, it is, and always has been, secondary to the stunning body of work Led Zeppelin produced between 1968 and 1980. Their influence can be heard today in countless bands the world over, yet they remain the ultimate band people want but can't have.
Which brings us to Boot-Led-Zeppelin……….Capturing the magic and excitement of Zeppelin's concerts from the 70s, the band faithfully perform their classic songs, from mellow acoustic tracks such as Going To California and That's The Way, to epics such as Whole Lotta Love, Rock 'n' Roll, Kashmir and Stairway To Heaven.
Boot-Led-Zeppelin are about as close as you can get to the real thing. Every last detail is taken care of. The right hair, the right clothes, Raff's Marshall amps bearing the infamous "Zoso" symbol and stage performances that are uncanny.
They play faithful, spot-on renditions of songs they obviously love and respect. In fact they are so accurate that you half expect to see the hulking figure of Peter Grant walking around making sure everything is in check……