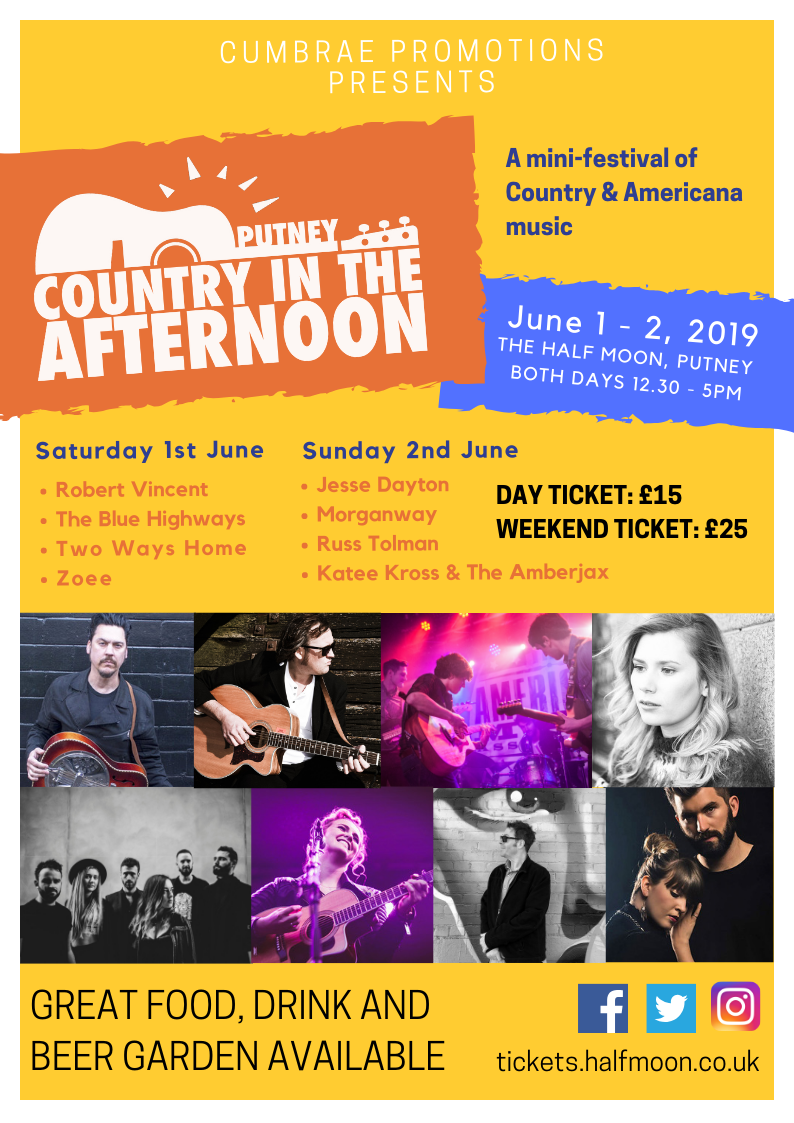 Half Moon presents:
Country in the Afternoon Festival
Cumbrae-Promotions + Jesse Dayton + Morganway + Russ Tolman + Katee Kross & The Amberjax
£15 day ticket / £25 weekend
Entry Requirements: 18+ after 7pm
It is with great pleasure that Cumbrae Promotions Limited announce the inaugural edition of Country In The Afternoon, a new mini-festival of fine country and Americana music.
Running from 12.30 until 5pm on each of Saturday 1st June and Sunday 2nd June 2019, Country In The Afternoon will present an amazing cross section of US and UK artists in the wonderful environment that is The Half Moon. Patrons will be able to enjoy great music in the renowned music venue (tickets are £25 for the weekend or £15 each day), superb food and drinks and an excellent beer garden. What more could one ask for?
Sunday will kick off with Katee Kross & The Amberjax, a trio who are carving out a promising career in their native Scotland. Already three albums in and another on the way, Katee is a prodigious writer of memorable songs, with a lovely voice that wraps itself around those lucky enough to hear it.
In his first appearance in London in over 20 years, Russ Tolman, founder of 80's Paisley Underground band True West, has crafted a long career as a singer/songwriter highlighted by seven critically acclaimed solo albums that mix Americana, folk and roots into a unique mixture that is all his own. His eighth album, Goodbye El Dorado, will be released in April and showcases some of his finest songwriting yet.
Morganway has developed a sound built on a love for multi-layered vocal harmonies, driven guitar riffs and distinctive fiddle flourishes, bound by raw, honest songwriting. Their collective obsession with '70s West Coast rock is also met with a love of Brit Rock, folk and modern Americana.
The promoters are beyond delighted to present Jesse Dayton as Country In the Afternoon's Sunday headliner. One of the finest guitarists ever to play country, Jesse has featured on albums by Jennings, Cash, Nelson, Price, Bush and Campbell, as well as releasing a string of solo albums, most recently The Outsider, which covers all of the country music style bases. He also has a new covers album on the way. With one of the hardest touring bands out there, Jesse Dayton delivers a terrific performance every time.
Line Up
21 year old Scottish singer-songwriter from Bishopbriggs near Glasgow. Katee Kross has already worked with some top names including Dougie MacLean, Barbara Dickson, Karine Polwart, James Grant, John Doyle, Findlay Napier, Tony McManus and Seasick Steve at venues including Wembley Arena, SSE Hydro, Kelvingrove Bandstand, King Tuts Wah Wah Hut as well as appearing at Millport Country Music Festival 2018.
She has written and released three full length albums. The first, 'Beautiful Dreamer' was released on the 26th March 2016, with the second 'Don't Fade To Grey' just a year later and her latest album 'Body & Soul' with her band The Amberjax has been written, recorded and produced by themselves; and released this month at a sold out gig at Nice N Sleazy in Glasgow.
"A simply excellent and staggering album - **** " - Maverick Magazine "Contemporary yet shaped in a traditional sound... New Country with an Old Soul" - Country In My Veins "Katee Kross continues to lead the Scottish Country scene with her new album" - Small Music Scene
Marketing for Katee Kross & The Amberjax is now handled by Scott Watson of Country Reach and from Millport Country Music Festival. This month we have seen a new website that offers direct-to-fan music, merch and ticket sales, a significant increase in our online presence and audience reach across the UK and beyond, a sold out album launch at Nice N Sleazy in Glasgow and pre-sales of the new album that have outsold the previous two albums in a space just 15 days.
Katee's audience are typically 35-65, based primarily within the central belt of Scotland in particular around Glasgow. Our online updates are regularly reaching one to two thousand people online in this demographic with high engagement rates.
Highlights of 2018: 2018 has seen Katee Kross & The Amberjax appear at 11 festivals across the country, with C2C Glasgow (SSE Acoustic Stage), Burnsfest, Mugstock and Millport Country Music Festival amongst them.
At the start of the year Katee headlined at King Tuts Wah Wah Hut as a result of her C2C acoustic stage appearance where access to the stage was restricted to one out one in due to numbers which was ''the first time that had ever happened'' according to DF Concerts.
She has continued to work assisting young up and coming artists, launching her own TV Show "Here & Now" for it's first season with online streaming company Broadcasting Scotland.
In Millport this year Katee Kross & The Amberjax opened the Cactus Jack's Stage on Friday night along with Gary Quinn and Jess & The Bandits, as well as an acoustic set on the Saturday in the Maverick Acoustic Venue which once again operated at capacity after just three songs into her set. Katee also hosted the Emerging Talent Showcase on the Sunday along with Maverick Magazine.
Other highlights include opening two dates for Catherine McGrath at her Liverpool and Glasgow gigs, appearance as part of the STV Children's Appeal and hosting the Open Mic Stage for the second year at Dougie MacLean's AmberFest.
2019 will kick off with headlining King Tuts again in January as part of their "New Year Revolution" series (to be announced at the end of the month) and later in the year a small tour of multiple dates in Germany, and hopefully a return to Millport in August/September 2019.