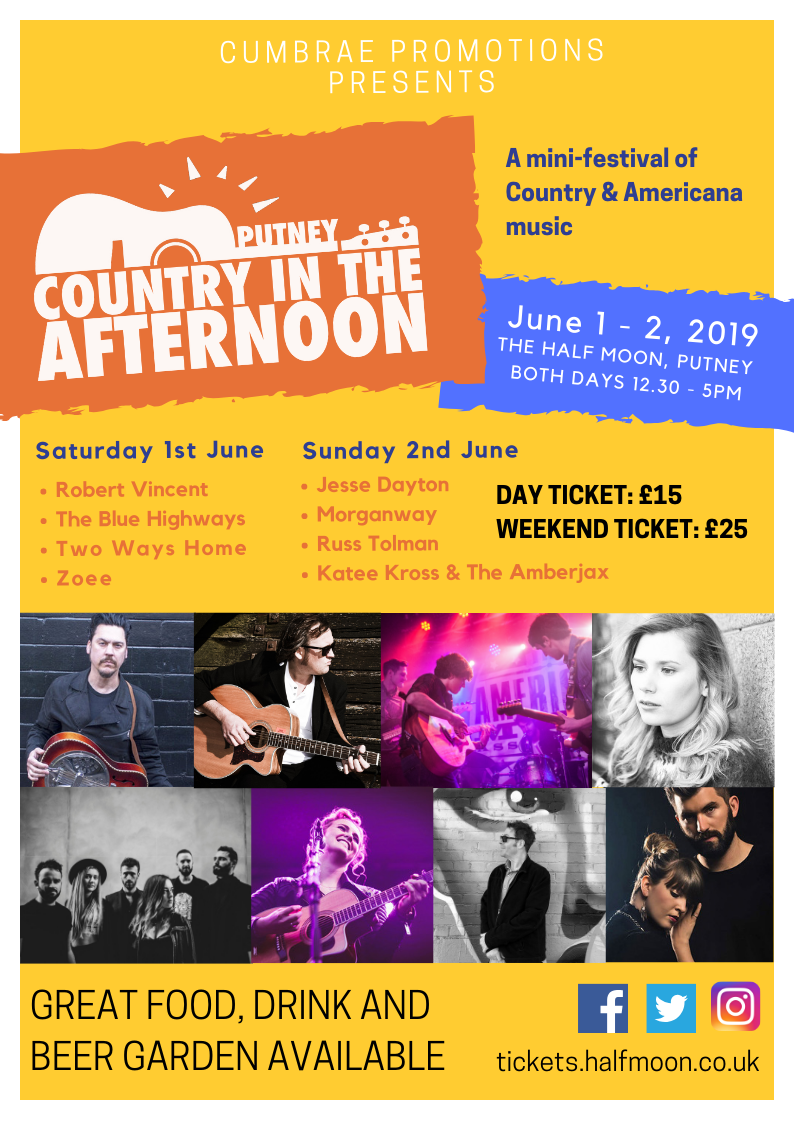 Half Moon presents:
Country in the Afternoon Festival
Robert Vincent + The Blue Highways + Two Ways Home + Zoee. + Cumbrae-Promotions
£15 day ticket / £25 weekend
Entry Requirements: 18+ after 7pm
It is with great pleasure that Cumbrae Promotions Limited announce the inaugural edition of Country In The Afternoon, a new mini-festival of fine country and Americana music.
Running from 12.30 until 5pm on each of Saturday 1st June and Sunday 2nd June 2019, Country In The Afternoon will present an amazing cross section of US and UK artists in the wonderful environment that is The Half Moon. Patrons will be able to enjoy great music in the renowned music venue (tickets are £25 for the weekend or £15 each day), superb food and drinks and an excellent beer garden. What more could one ask for?
First up on Saturday will be Zoee, last year's Millport Country Music Festival's Emerging Talent Showcase winner, whose last single, Town, went straight to Number 1 on the Scottish New Music All Genre chart. Her songwriting, singing and playing will enthral listeners.
After releasing three EPs, Two Ways Home are currently working on their debut album of original material in their unique alt-country/folk style. Great live, Two Ways Home (Isabelle Marie and Lewis Fowler) are destined for big things in the future.
Next up will be The Blue Highways, who have quickly cemented themselves as a fixture on the Americana scene in the UK. Having built a reputation as a commanding live act driven by big vocals, close harmonies and narrative led songs. They have already supported some of the biggest acts in the genre.
Cumbrae Promotions are delighted to announce that Robert Vincent will be joining the line up for the inaugural Country In The Afternoon mini-festival on Saturday 1st June at The Half Moon in Putney, London.
Robert Vincent is an award-winning singer/songwriter from Liverpool - having received the inaugural 'Americana Music Association UK Bob Harris Emerging Artist Award' in 2016 and the UK Americana Music Association's UK Album of The Year in 2018. Robert credits his story-telling style of songwriting to his upbringing – where his formative years were spent listening to his father's record collection including Emmylou Harris, Charlie Rich and Waylon Jennings, plus his older brother's introduction to Pink Floyd.
With two excellent albums, Life In Easy Steps and I'll Make The Most Of My Sins, under his belt and a third due for release later this year, Robert Vincent has been described by the legendary Bob Harris as "The Real Deal". Having toured extensively, including supporting the likes of Beth Nielsen Chapman, Duane Eddy, Roger Waters, The Pretenders and more, Robert brings great presence and musical chops to the stage to accompany his breathtaking songs.
Line Up
Robert Vincent is an award winning singer songwriter from Liverpool.
His sound has been described as ;
"Compelling and introspective LoFi Alt Country meets Folk" (fatea)
"If you're seeking out a contemporary influence think Jason Isbell" (3 chords and the truth) "What Oasis might sound like recast as brooding Americana Blues" (folk radio uk) "Vincent slides easily between singer songwriter mode to full band profile"( Rocking Magpie)
The title track from his debut album "Life in Easy Steps" was play listed on radio 2 and was well received by the reviewers back in 2013 and since then he has been on the road playing a mixture of solo and band shows, supporting Paul Carrack on 3 UK tours and also a run of shows with Squeeze. This has helped Vincent again a loyal fan base across the UK.
A turning point for Vincent's career came when playing at a songwriters event in Liverpool . On the panel was "Whispering" Bob Harris who was impressed with what he heard
" I am so impressed with Roberts music. Strong songs laced with blues and country he is the real deal" Following their meeting Robert was invited to record a live session for Radio 2 and Bob Harris chose him as his "emerging artist" at the inaugural UK Americana awards 2016.
Following on from this Robert was signed to Brighton based label At The Helm Records and was invited by the executive director of the Americana Music Association Jed Hilly to play at the Americana Awards showcases festival in Nashville Tennessee. Here he continued to make an impression and was named by Rolling Stone Magazine as one of the top 20 acts they saw at the festival under the heading "Best Brit".
The trip also saw him signed to Last Chance Records for a US release of his new album "Ill Make the Most of my Sins".
"Ebullient Evocative and Entertaining" is how the latest record as been described by Fatea Magazine..
This second album was recorded in Liverpool with members of his band and mixed over in Nashville with Grammy winning producer Ray Kennedy (Steve Earle)
So far the reviews have been great . An article in The Guardian sites him as one of the UK artists flying the flag for Americana in the UK, Country music magazine gave it 5 out of 5 stars Specialist radio shows such a Bob Harris Country, Ralph McLean on BBC radio Ulster said of Vincent "A sublime songwriter I think he is an incredible talent" as well as lots of online radio plays and press in the music blogs
"Robert Vincent is a gifted songwriter making music that will resonate well with the cultured ear"(3 chords and the truth"
"Robert Vincent writes songs you would associate with master craftsmen singer songwriters from the Americas not a young man from Liverpool at the start of his career" Fatea.
Early Feburary has seen Robert and full band supporting Turnpike Troubadours from Oklahoma on their first UK tour which has been sold out . There are plans for a summer of festivals and a full band headline tour both here and stateside to coincide with a US release later in the year.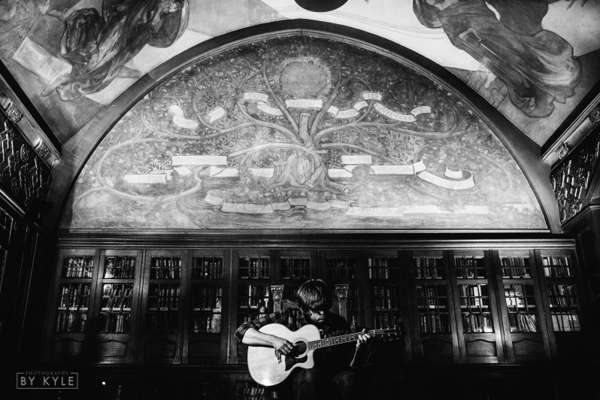 Formed in early 2018, four piece Americana band The Blue Highways have quickly cemented themselves as a fixture on the Americana scene in the UK. Having built a reputation as a commanding live act driven by big vocals, close harmonies, and narrative led songs, they've already supported some of the biggest acts in the genre including Iris Dement at the Sage Gateshead, and Bennett Wilson Poole on their first UK tour.
The band also appeared at numerous festivals over the summer including Summertyne Americana festival, Millport Country Music Festival, Noshville and Wild Tweed and are regulars on the London gigging circuit having recently played with The Fargo Railroad Co, Speedbuggy USA and Matt Woods and the Natural Disasters.
They recently performed at an Under the Apple Tree Showcase curated by Bob Harris, and in April are performing on the first ever Under The Apple Tree Tour in London at the O2 Academy Islington supporting Wildwood Kin, and in early 2019 will be performing a showcase at the Americana Association UK's festival. Coupled with a new album in the works for a release in early 2019, produced by Chris Clarke (Danny and the Champs), the band is set for another big year.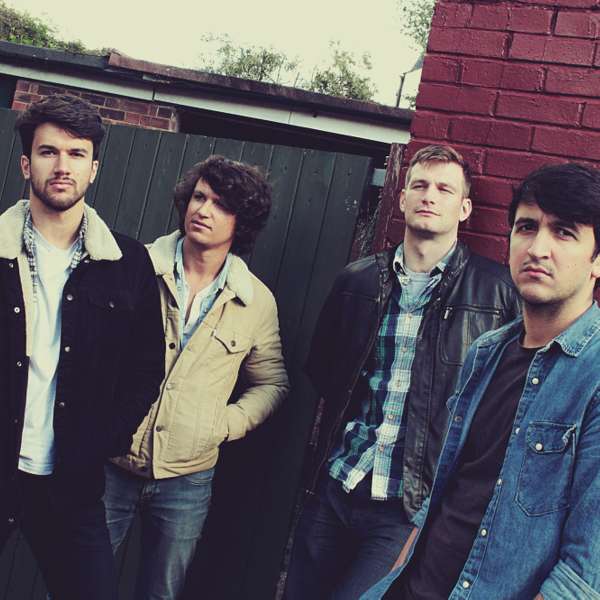 Two Ways Home
Two Ways Home are the songwriters and alt-country/folk duo Isabella Mariee, originally from Vienna and Lewis Fowler, who grew up in Gloucestershire. Now based in London, the pair have gone from strength to strength since the release of their debut EP 'Wood For Trees'(March 2015). The band have enjoyed radio play across the UK & Europe, toured internationally, sharing stages with artists across the country/Americana spectrum from Phil Vassar to The Shires and have been featured extensively in print publications including Maverick Magazine, Record Collector and The Sun, with the latter describing their sound as "…crystal clear harmonies tinged with melancholy".
The acclaimed follow up EP, 'Better Days' highlighted as "a stunning piece of art" by One on One Music secured their reputation as a key player in the UK country & folk scene, with single 'Just For Now' played across BBC Regional Radio, Amazing Radio and on Chris Country among others. Described by The Upcoming as "unique, unexpected and brilliant", interest in their music has also led to increasing demand for Two Ways Home as a songwriting team, with other artists turning to the duo to bring their distinctive sound to collaborations and co-writes. They have written with/for UK and American artists such as Liz McClarnon (Atomic Kitten), Twinnie and Charlie Worsham to name a few. Two Ways Home also run a Nashville-style writers round(The RoundUp) in London, which is steadily growing in popularity and has seen all of the previously mentioned artists perform at their events. After a well received third EP, 'Closest Stranger' and the release of 2 alone standing singles; 'Outlaws' and 'As I Leave'. Two Ways Home have had a festival packed summer, with appearances at The Long Road Festival as well as Nashville Meets London and Millport Country Festival and finished 2018 with an upbeat, energy driven performance at Nash Nights at Under The Bridge.
2019 is set to be an exciting year for Two Ways Home, after raising £10,000 for the recording of their debut Album, which is due for release later on this year, they will also be touring extensively in the UK, Europe and America.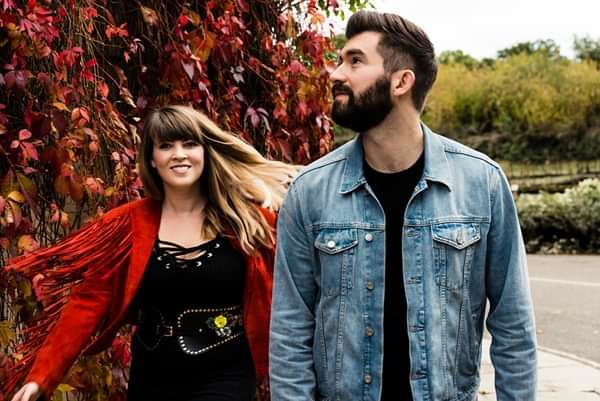 Zoee is that rarest of Alternative Country/Pop/Americana phenomena. The award winning singer-songwriter, actress and model has touched the hearts of thousands while she's traveled the world performing from the US to the UK. Zoee's ever-present storytelling & uplifting theme has been compared to world-class artists such as Rod Stewart, James Blunt, Steve Earle, Dolly Parton & Taylor Swift. Dusted with underlying messages & entwined with personal narratives, Zoee keeps her sound grounded & raw, much like the music of the 1970's & 1980's. Elegant. Powerful. Individual.
Zoee, the Australian native singer-songwriter, crossed the Oceanic in 2014, for her first tour in North America, recorded and released her first studio demo album in 2015 & moved across the world to the UK in 2016 to pursue her passion for music, where she is recording her next official album and is working on collaborations with Norman Saleet (Air Supply, Crystal Gayle & Art Garfunkel) and Australian Country Music icon Graeme Connors (John Denver & Jon English).
HERE & NOW - 2019
2019 has already started off with an incredible step for Zoee working on her first official album (which is a documentation of her adventures; following the monstrous move, literally around the world, to chase her passion) and some incredible festival performances to be announced, plus working on some exciting new collaborations in film and music in the UK, Sweden and the US. . . Get alerts about all these here
AT A GLANCE - 2018
2018 was a year of growth for Zoee from performing all across the United Kingdom and in front of thousands to releasing her first official single, "It's the Weekend", "Kiss To Remember" and "This Time" (which hit the Scottish New Music chart at No#15) and the success of her Official Film Soundtrack "Town" which topped the Scottish New Music All-Genre Global Chart and won two awards being the "Best Film Soundtrack" and "Best Original Song in Scotland" at the Infinitime Music Awards.
In Oct 2018 Zoee was commissioned to produce the main soundtrack for the upcoming movie, "19 Willock Place" which is a Scottish Government and BBC backed film in planning stages for global release through Cineworld during 2019. Prior to the film premiere in December the song which was released in September went straight to No#1 on the Scottish New Music All-Genre Chart.
(The official soundtrack, "Town", is available here: https://youtu.be/dPhSlKEIJTk)
Past that, Zoee was selected to perform at and was for nominated for three awards at the 2018 Infinitime Music Awards. Categories included: Best Female Artist, Best Solo Record and Best International Act. Zoee won two awards, Best International Act and an unexpected special award for Best Film Soundtrack and Original Song for "Town".
In 2018 Zoee headlined at the Mighty Dub Festival in Alnwick, the Spirit of Duncarron Festival, alongside the mighty Saor Patrol and Scottish singer-songwriter John Taylor, and performed at the Millport Country Music Festival taking out 1st place on the Maverick Magazine Emerging Talent showcase and taking to the Main stage to open for Eastender & Minders Shane Richie with The Wandering Hearts.
AT A GLANCE - 2017
In July '17 Zoee graced the BBC Introducing stage at the Brentwood Festival (ft. Headliners Status Quo, Midge Ure, Go West, Missing Andy & Jocelyn Brown), in August she wrapped her month-long stint of performances at the Edinburgh International Fringe Festival & by December that year she would earn her place in the Open Mic UK Songwriting showcase where she would come 3rd out of thousands of participants.
With her intimate acoustic gigging around the UK & EU (ft. just herself and her band - 2 guitars and a cajon), Zoee is definitely a talent worth watching out for.