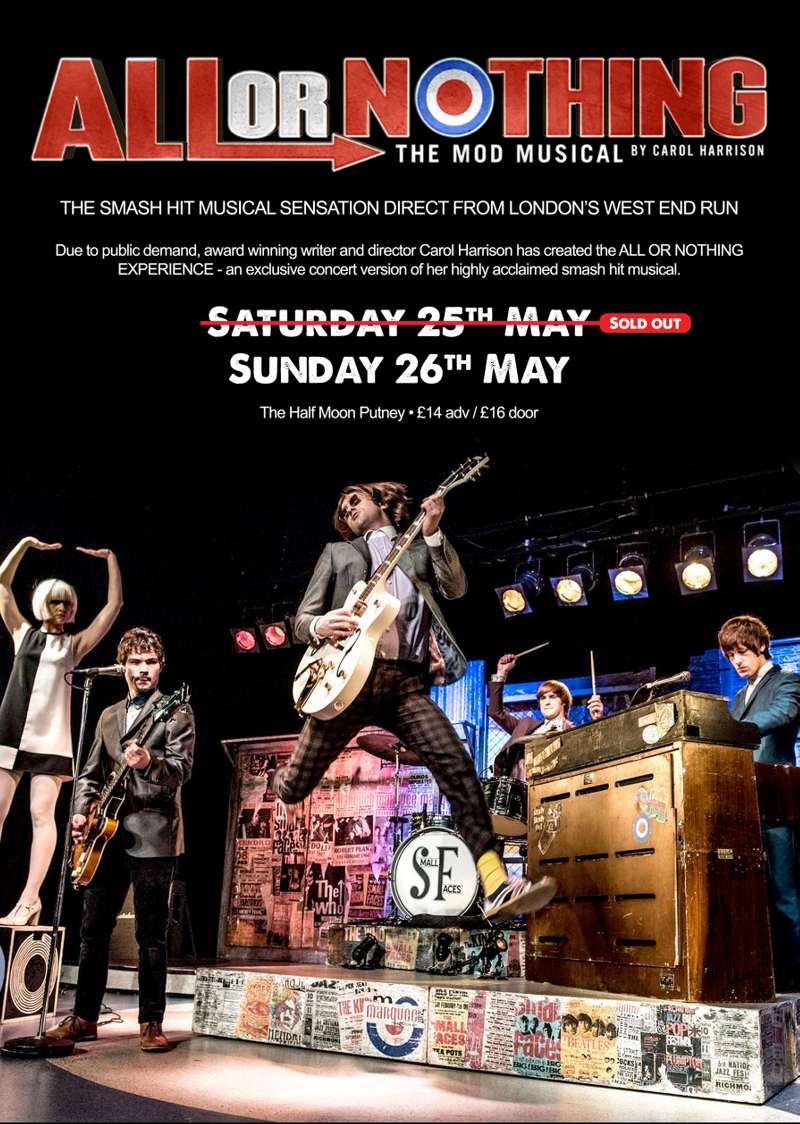 Half Moon presents:
All Or Nothing Experience
All Or Nothing Experience
£14 Adv / £16 Door
Entry Requirements: 18+ after 7pm
THE SMASH HIT MUSICAL SENSATION DIRECT FROM LONDON'S WEST END RUN
Due to public demand, award winning writer and director Carol Harrison has created the ALL OR NOTHING EXPERIENCE - an exclusive concert version of her highly acclaimed smash hit musical.
In 1965, a new phenomenon erupted out on to the streets. It was the essence of all that was cool. It was MOD. ALL OR NOTHING - THE MOD MUSICAL celebrates the unique sound of this iconic era.
Starring the brilliant multi-talented West End cast, performing LIVE, all the hits from the show, including Whatcha Gonna Do About It, Tin Soldier, Lazy Sunday, Itchycoo Park and, of course, All or Nothing. Plus other cool and groovy songs from the sensational 60's.
Line Up
***** The Upcoming 'The cast have toured around cities in the UK to full houses and cheering crowds and now they have come to blow the capital's mind. And they certainly did that at yesterday's premiere, showing the audience what passion for music can create.
'The show is so immersive, it's a struggle not to join in'.
'All Or Nothing is the coolest musical on Earth, classy and comedic, and the music a revelation'.
**** The Spy in The Stalls 'So if you are a fan of the sixties, mod culture, the Small Faces or just want to know more about what happened in that decade, this is a show for you. Book your seat and enjoy this powerhouse musical. And as Stanley Unwin would say 'Are you all sitting comftybold two-square on your botty? Then I'll begin'.
**** the reviews hub 'While you may not be a Mod when you enter the theatre, you'll definitely come out as one, singing along to All Or Nothing or Itchycoo Park. We are the Mods!'