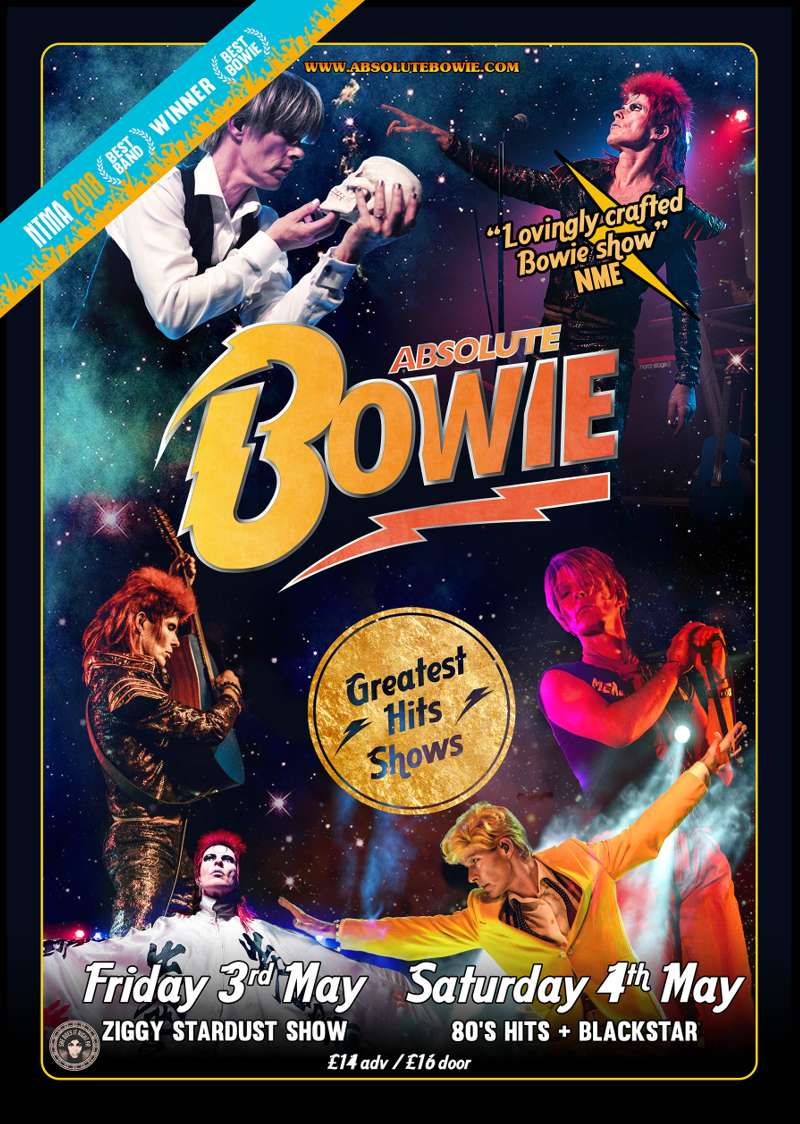 Half Moon presents:
Absolute Bowie - 80s to Blackstar Show
Absolute Bowie
£14 Adv / £16 Door
Entry Requirements: 18+ after 7pm
Absolute Bowie - 80s & Blackstar Show
Saturday's show showcases the 80s and beyond. A celebration of Bowie's output from the New Romantic beginnings of the 80s right through to his latter years albums culminating with 2016's Blackstar. 2 sets of killer tunes plus a few lesser known gems.
Ashes to Ashes
Let's Dance
Absolute Beginners
Modern Love
Blue Jean
Loving The Alien
Young Americans ... so many great songs in this 2hr set!
Winners of the 'Best Bowie Tribute' and 'Best Band in the UK' at the Agents Association of Great Britain Awards July 2018. Absolute Bowie are, without a doubt, the best and by far the most popular David Bowie tribute in Europe and now in their 11th year.
Pic: Ed Fielding
Line Up
There will only ever be one David Bowie, he was unique in every way and an inspiration to millions. Absolute Bowie, Europe's Finest David Bowie Tribute continue to celebrate the life and music of the Starman with a spectacular show uniting Bowie fans across the UK.
The five piece has toured all over Europe for the last 8 years, faithfully performing the music of David Bowie with uncanny accuracy. The audience are taken on a journey experiencing the different personas of Bowie, from Ziggy Stardust and Aladdin Sane through to The Thin White Duke and the late 80's.
Absolute Bowie has been voted one of the best tribute bands in the UK with their energetic (and theatrical!) stage show. Prepare to be taken from A to Z (Absolute Beginners to Ziggy!) with Stations to Station in between.
https://www.youtube.com/watch?v=2ClUze8sBf0
Facebook: www.facebook.com/absolutebowie1 Twitter: https://twitter.com/absolutebowie Web: www.absolutebowie.com