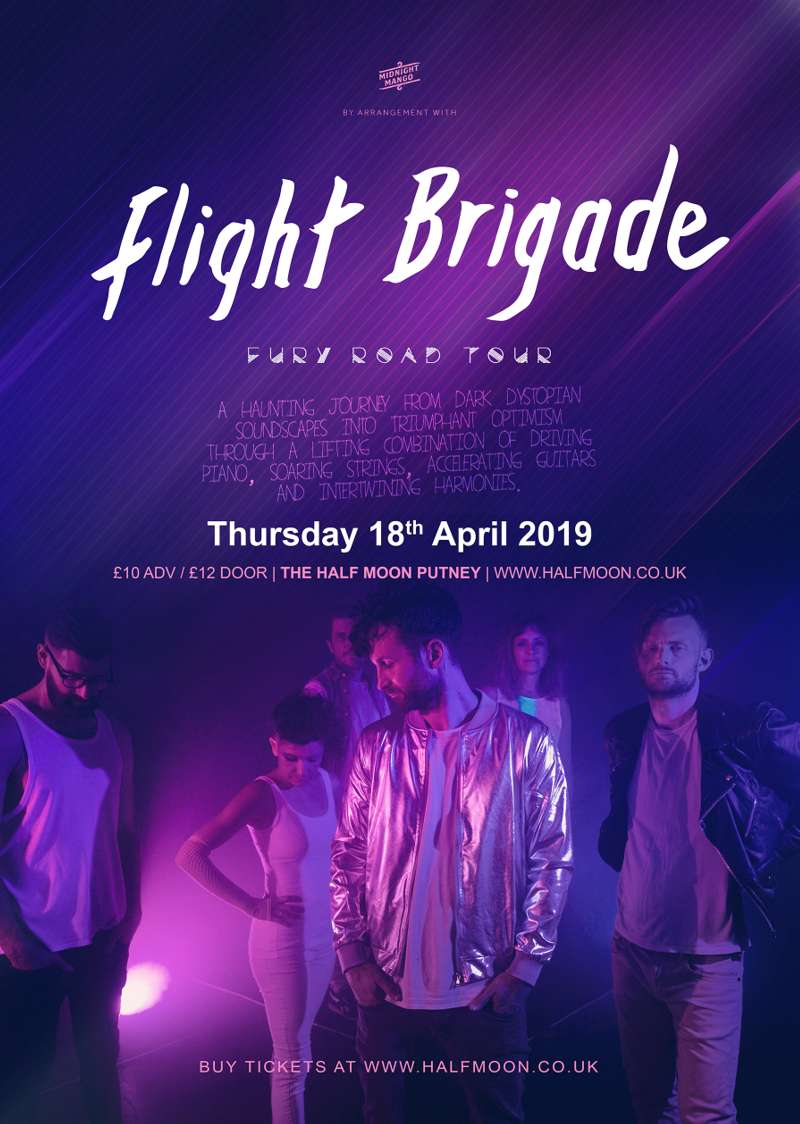 Half Moon presents:
Flight Brigade + Port Erin
Flight Brigade + Port Erin
£10 adv / £12 door
Entry Requirements: 18+ after 7pm
Think of Flight Brigade as a family as much as a seven-strong band and you start to understand the chemistry between them. Think of their songs as epic stories to which each member is essential and you begin to grasp what makes their music so powerful. Watch them perform and you can't fail to be struck by the special bond they share.
Flight Brigade's strength in numbers suits the scope of their songs. The grand orchestral sweeps, the crunching anthemic guitars, With male/female vocals & strings set amidst synths & heavy guitars, their explosive live show feels like it's their last day on earth, 'as if Arcade Fire had a face off with Fleetwood Mac and then Renaissance came in for the kill'.
Support is from West Country band Port Erin.
Drawing on influences such as Talking Heads, XTC, Syd Arthur, Talk Talk, Miles Davis, Cowtown, Sigur Ros, Frank Zappa, Oceansize and Prefab Sprout the band's constant and relentless writing and touring has developed their unique sound, with no limitations put on genre or style.
Line Up
Flight Brigade is the coming together of two families the Baines and the Hughes. Ollie Baines (lead singer) grew up on a farm in Ohio before moving across the pond to a sleepy Hampshire village. At the other end of his street lived two sisters, Miriam and Dorry Hughes. Ollie and Miriam got married and, with sister Dorry, rallied local friends to form the 7 piece Flight Brigade. It proved to be a melting pot of contrasting influences, Ollie had absorbed the Americana of his childhood, but shared Thomas' (guitarist) and Neil's (drummer)love of heavier bands. Miriam and Dorry meanwhile were more influenced by the music of their childhood, their parents being part of the 70's British folk scene.
Flight Brigade's sound takes you on a haunting journey from dark dystopian soundscapes into triumphant optimism through a lifting combination of driving piano, soaring strings, accelerating guitars and intertwining harmonies.
Having supported Grouplove, Dry The River, Stornoway, King Charles and Seth Lakeman, the band also won two live competitions to play main stages at Hop Farm and Blissfields festivals. Alongside live sessions for BBC Radio 2, BBC Introducing, TOMS & Lee Cooper the band's EP has been played on national radio in Canada (CBC Radio 2) as well as BBC 6 in the UK (Steve Lamacq & Tom Robinson) and Bob Harris (BBC Radio 2). The band were also commissioned to compose the music for an ITV documentary about Syria and Haiti as well as a campaign for Unicef. They are currently finishing their debut album, co-produced by Gavin Monaghan (Kings of Leon, The Editors).
''Very smart and fleet-footed – a modern math-rock vibe… very evolved but still rocking out as well''
David Sinclair (The Times, The Guardian, Kerrang!)
Despite having a Manx inspired name, Port Erin are proud to call themselves a West Country band. Formed in a tiny Wiltshire village back in early 2007 these inauspicious origins have not hindered the band at all, serving more to generate a genuine gang mentality and impressive work ethic. Drawing on influences such as Talking Heads, XTC, Syd Arthur, Talk Talk, Miles Davis, Cowtown, Sigur Ros, Frank Zappa, Oceansize and Prefab Sprout the band's constant and relentless writing and touring has developed their unique sound, with no limitations put on genre or style.
The last seven years have shown Port Erin to be one of the most productive and consistent bands on the circuit with the release of three EP's - The Weight Of This (2007), The Deads (2008) and Threee (2013) and two full length albums – I'll Be On The Common (2009) and Wheel Inside A Wheel (2012). The latest two recordings were produced with Marco Migliari (The Beautiful South, Crowded House, Deep Purple, Doves) at the legendary Real World Studios in Box.
Each of these recordings has showcased the chameleon-like abilities of the band, each recording a snapshot capturing a moment in time as the trio experiment with their sound, pushing at boundaries and bringing new influences into the mix. In fact, the only consistency between these recordings has been the universal critical acclaim that each has received. Writing about Wheel Inside A Wheel music website God Is In the TV Zine stated; "as well as the recognisable shades of early Elbow, Doves and Jeff Buckley, the carefully picked notes and flourishing melodies are boosted by the jazz-funk punch of the rhythm section" whilst Delusion Of Adequacy described it as; "something of a minor masterpiece of Alt Folk that combines finely turned guitars alternating between accomplished songwriting and laid back summery grooves".
Each recording has had support from BBC Introducing and resulted in multiple live sessions with one stunned presenter describing the band as "simply mind blowing" and BBC 6 Music's pre-eminent presenter Tom Robinson has played the band both on his mix-tape and live Saturday show, introducing "the glorious sounds of West Country trio Port Erin".
Port Erin are no less accomplished live, performing at Glastonbury Festival in 2010, 2011, 2013 and again this year on their biggest stage to date. They have shared stages with acts as well known and diverse as Red Snapper, Nick Harper, Paul Heaton (The Beautiful South) and The Redwalls and toured the UK extensively.
These live shows have not gone unnoticed with Venue magazine describing the band as "a perfectly weighted three-piece dispensing precision rock full of space and dynamics with a pysch groove that's undercut by sharp guitar and vocal lines that never settle for an obvious pattern" and the songs as "progressing unpredictably as jazz, but with hints of melody that never quite get lost in the rubble of breakdown".
2014 has seen Port Erin sign to independent label Secret Chord Records and return to the studio to record their third LP "Floating Above The City". This album, which is due for release in late September, will be co-produced by Dom Bailey at Nine Volt Leap Recording Studio in Melksham, Wiltshire. This release will be supported by a full UK tour.