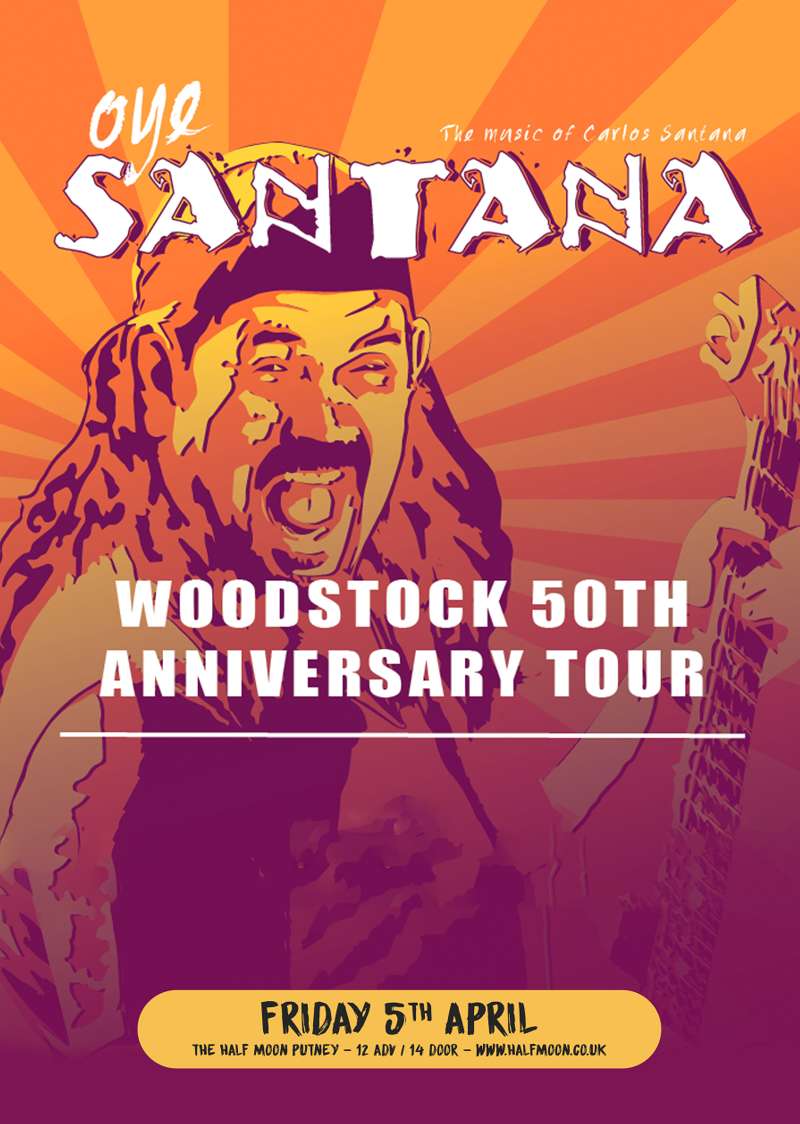 Half Moon presents:
Oye Santana - Woodstock 50th Anniversary Tour
OYE SANTANA
£12 adv / £14 door
Entry Requirements: 18+ after 7pm
Oye Santana's Woodstock 50th Anniversary tour comes to The Half Moon
UK's top latin rock tribute hits Putney on 5th April
Oye Santana, voted UK No.1 Winner at the 2018 National Tribute Music Awards, are celebrating 50 years since an electrifying performance at Woodstock catapulted Santana to stardom. Having wowed an enthusiastic audience there last year, the band checks in to The Half Moon, Putney, on Friday 5 April 2019 ready to do the same again. As those who've already seen them will confirm, it's a fiesta-tinged show that has everyone's feet tapping from the first chink of a tambourine to the get-up-and-boogie finale.
When it comes to hits, the Half Moon audience will be spoilt for choice – Carlos Santana has 50 years' worth. Early favourites include Jin-Go-Lo-Ba, Samba Pa Ti, Black Magic Woman and She's Not There, but Santana's chart success reaches well into the 21st century. Expect to hear Smooth (a million-seller at the turn of the millennium and the US Billboard chart's #1 rock song of all time), Corazón Espinado, Maria Maria and his 2016 smash, Anywhere You Want To Go.
Their Woodstock 50th Anniversary tour sees Oye Santana not only playing dates across the UK but also headlining a series of Woodstock-themed festivals in Belgium and Holland.
To find out more about the band (including a full list of current bookings) and to watch their showreel, go to www.oyesantana.com.
Line Up
Oye Santana – The Woodstock 50th Anniversary tour from the UK No.1 Winner at the 2018 National Tribute Music Awards.
The seven-piece band is led by Milan Webb, a virtuoso guitarist with a technique and tone to match Santana himself, who not only sounds the part, but looks the part too. Joining him on stage are Hector Gomez (yes, he's Spanish) and Liza Marshall on vocals, and Gez Kahan on keyboards. Adding to the spectacle and generating those infectious latin-rock rhythms are Jon Quirk on bass and Paul Murphy on percussion, while Pete Lockwood is the powerhouse behind the drum kit.
"As ever, we'll be concentrating on hits, played the way everyone knows them from the records," says Milan. "We've never been into long self-indulgent solos – and we don't think our audience are either! Our focus is on entertaining, and we love it when people get up and dance."
What makes award-winning Oye Santana so good? First, the music. There's a treasury of five decades of catalogue to draw on since that electrifying performance at Woodstock catapulted Santana into stardom – and every number in Oye Santana's set is a gem in its own right. Expect to hear Smooth, Black Magic Woman, Samba Pa Ti, Maria Maria, Oye Como Va, Corazón Espinado, She's Not There and many more – played with power, passion and perfection.
Then there's the musicianship. Check out the credentials of Milan 'Carlos' Webb; of Gez Kahan and Hector Gomez; the astonishing breadth of abilities that Paul Murphy, Pete Lockwood and Jon Quirk bring to the on-stage set-up. This really is a feast of musical talent.
Next, the authenticity. They could go off on self-indulgent flights of fancy, but they don't. They painstakingly recreate the original Santana arrangements of the big hits that you know and love to bring you the true Santana sound. But playing the right notes is only a start. There's much more to being the Best Santana Tribute in the World…
There's the passion. Carlos Santana's guitar playing is instantly recognizable not just because of his tone or his trademark licks, but because of the emotion he puts into every note he plays. Oye Santana have that covered. And there's the good-time feel. They've got that covered too. Every track is a fiesta – come and dance, come and party.
And every Oye Santana performance is a show, a visual feast of lights and action that will have you singing along, smiling along and dancing along from the first chink of a tambourine to the explosive finale. You're going to love Oye Santana.
Billed as "The best Santana tribute in the world". Anyone listening wouldn't argue with that. Best tribute band in the World? Quite possibly! - Ken Holland, Teignmouth Post
The best tribute band I've seen ... - Hilary Howard, co-manager, The Railway Venue, Bolton