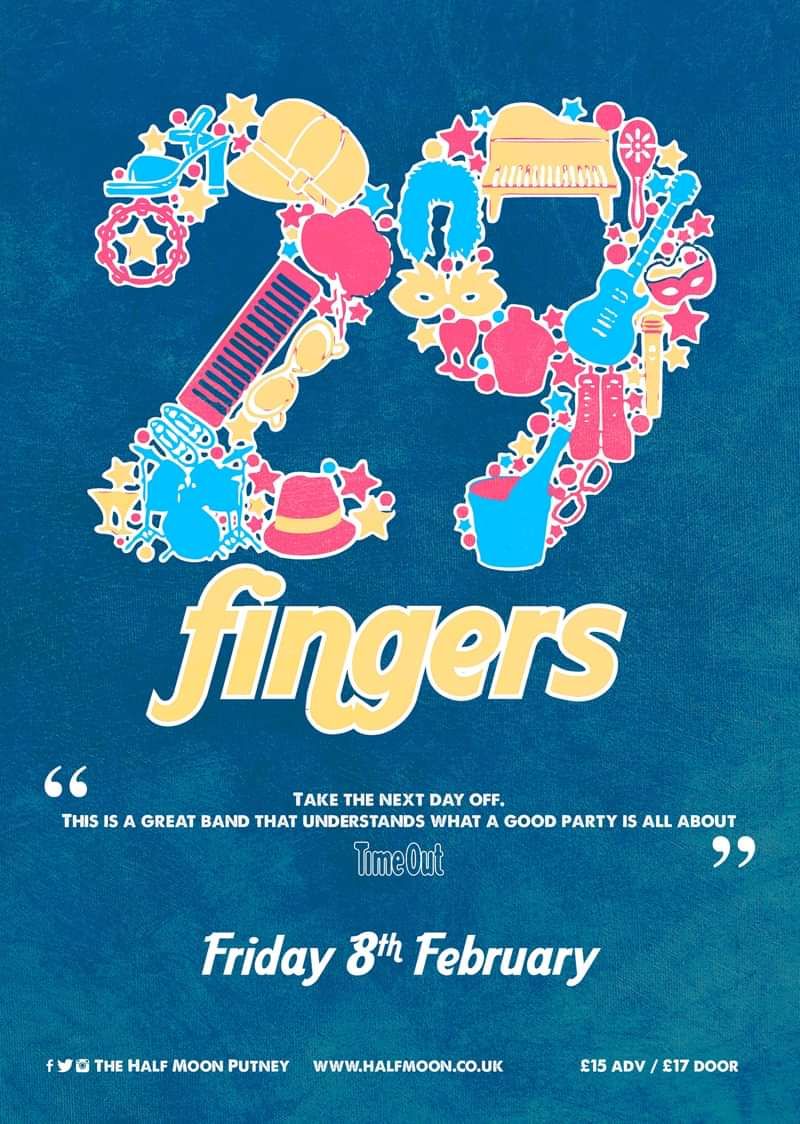 Half Moon presents:
29 Fingers
29 Fingers
£15 adv / £17 door
Entry Requirements: 18+ after 7pm
Fresh from "Chasing Bono" https://sohotheatre.com/shows/chasing-bono/ round a West End stage, 29 Fingers featuring Ivan McCormick & Erika with their band of over 20 musicians, actors and woodland creatures are here for one night only…
2018 saw them play over 100 performances in 7 different countries, and 2019 is already gearing up to beat that…..don't miss out on the most entertaining party in London.
Why not book a pre-concert table for dinner here
Line Up
Ivan McCormick started 29 Fingers after being dumped by U2 in the hope of "Killing Bono" www.killingbono.co.uk at his own game….well things didn't quite work out that way but they kept going, teamed up with Erika Imma http://www.officiallyerika.co.uk/ and brought the best of all styles of music, pop, rock & folk, Irish and British, to parties and festivals across the UK and Europe. Now approaching their 20th year and having reinvented themselves countless times, enlisting fresh ideas and talent, (some of the current band members weren't even born when it all began) 29 Fingers get busier and bigger every year. Catch them at this, their only public London performance in 2018, and treat yourself to an unforgettable night of non-stop entertainment.
Time out said: "Take the next day off, this band knows how to party!"
Tatler called them: "A crazy over excited stage full of talent"
Harpers wrote: "29 Fingers take no prisoners, they're on your table, singing into your face, stealing your drink if you're not careful….I LOVED IT!".