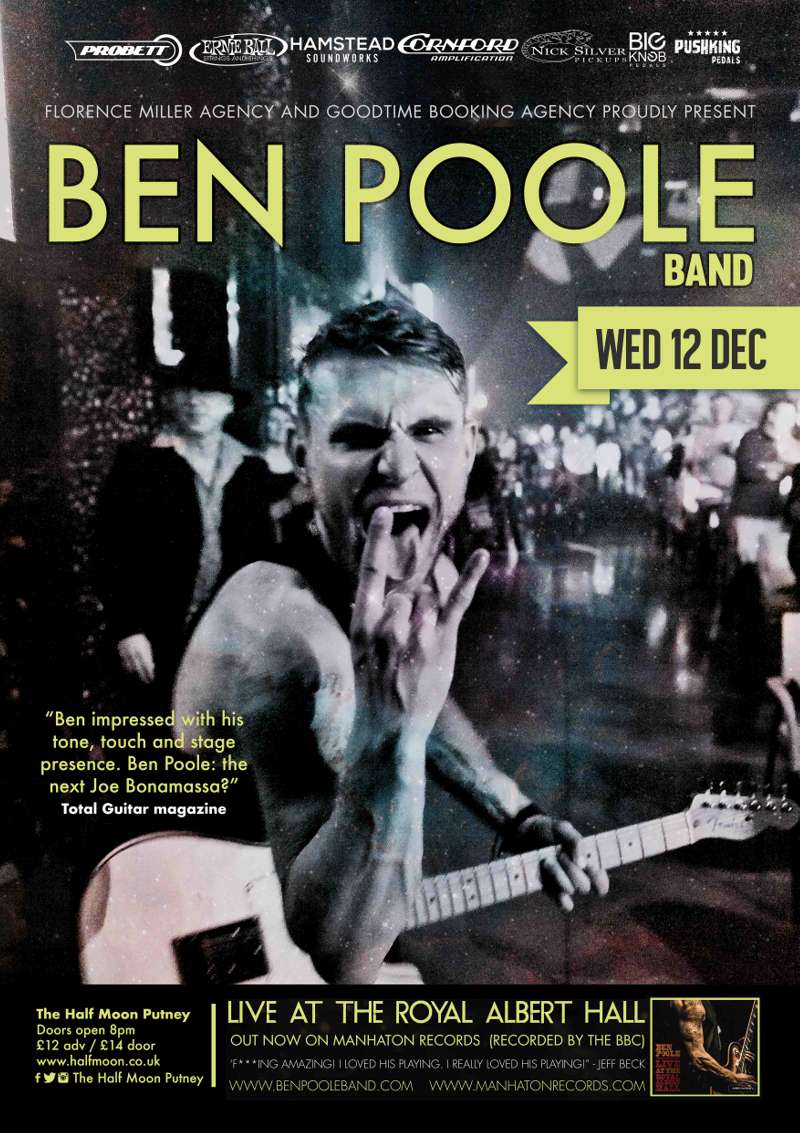 Half Moon presents:
Ben Poole (Band Show)
Ben Poole + Matt Pearce & The Mutiny
£12 Adv / £14 Door
Entry Requirements: 18+ after 7pm
Ben really brings the fire with his licks. He's got neck-snapping vibrato where he catches a bunch of strings at once and grinds the shit out of them. By the way he hits the guitar, we can only assume it's been saying rude things about his mother! Ben impressed with his tone, touch and stage presence. Ben Poole: the next Joe Bonamassa? -Total Guitar magazine
Line Up
Very good. A really fresh sound and style!- Paul Jones (BBC Radio 2)
Fing amazing! I loved his playing…I really loved his playing!"* – **JEFF BECK
A Really great player! – GARY MOORE
This is a young man to look out for as he is no doubt a rising talent and should be supported when he comes to a local venue. – BLUES MATTERS' MAGAZINE
Unbelievable! It's very refreshing to hear someone in today's time who reminds me of the guys who inspired me when I was young. He'll be a household name someday for sure…Amazing! – RICHIE KOTZEN
Great tracks, great guitar and vocal live…one great special player! – BERNIE TORME (Ozzy Osbourne, Ian Gillan/Deep Purple)
When you hear comments such as the above from some of the worlds' greatest guitar players and one of the leading UK roots magazines you just know they have heard something very special. Twenty-five year old Ben Poole is currently being described as the most exciting young blues guitarist to come out of the UK for a long, long time.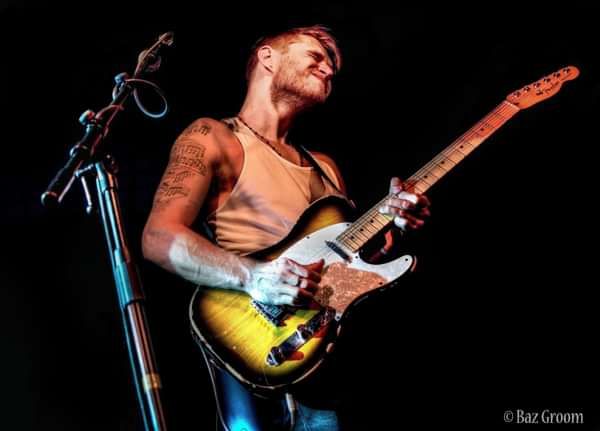 MATT PEARCE & THE MUTINY is the new funky-blues-rock 'solo' project from the longtime guitarist of U.K. rockers VOODOO SIX.
Matt's forthcoming self-produced album 'Gotta Get Home' features him on lead vocals, guitar and all songwriting duties, alongside the cream of the London blues scene, and was mixed by his V6 bandmate Tony Newton, who produced IRON MAIDEN's most recent live release, The Book of Souls. The album features the full range of Matt's influences, rock, blues, funk and soul, described by one listener as 'PRINCE playing BLACK CROWES songs, or vice versa...'
Or as Matt described it, "it's a Funky Souladelic Blues Rock Jam Thing..." He is currently arranging live dates including the prestigious HRH Blues and Winterstorm festivals and a week in Russia at the British Blues Invasion event, ahead of the album's forthcoming release.
"Matt Pearce & The Mutiny bring a welcome shot in the arm to blues rock. I love the blending of the guitars and the electric pianos on this album. Sounds vintage and modern at the same time!" - Darren Reddick, Planet Rock Radio
"Matt proves there's still room for a significant song writing sensibility in their melodic, blues-rock crossover. They also embrace coruscating funk, interwoven with steely riffs and counterbalanced by a fluidity built on the back of catchy hooks. It all comes together perfectly on the John Mayer influenced 'Some People', a white boy soul departure on which they groove mellifluously and reveal the depth of their musical sweep. Contemporary rock never sounded so refreshing." - Pete Feenstra, Get Ready To Rock! Radio presenter and leading blues/rock promoter
Hear a sampler of two album tracks here: https://youtu.be/-S2zfe_o3f0
A live clip from his recent debut gig here: https://youtu.be/XBWTDDcHWtk
https://www.facebook.com/mattpearceguitar/