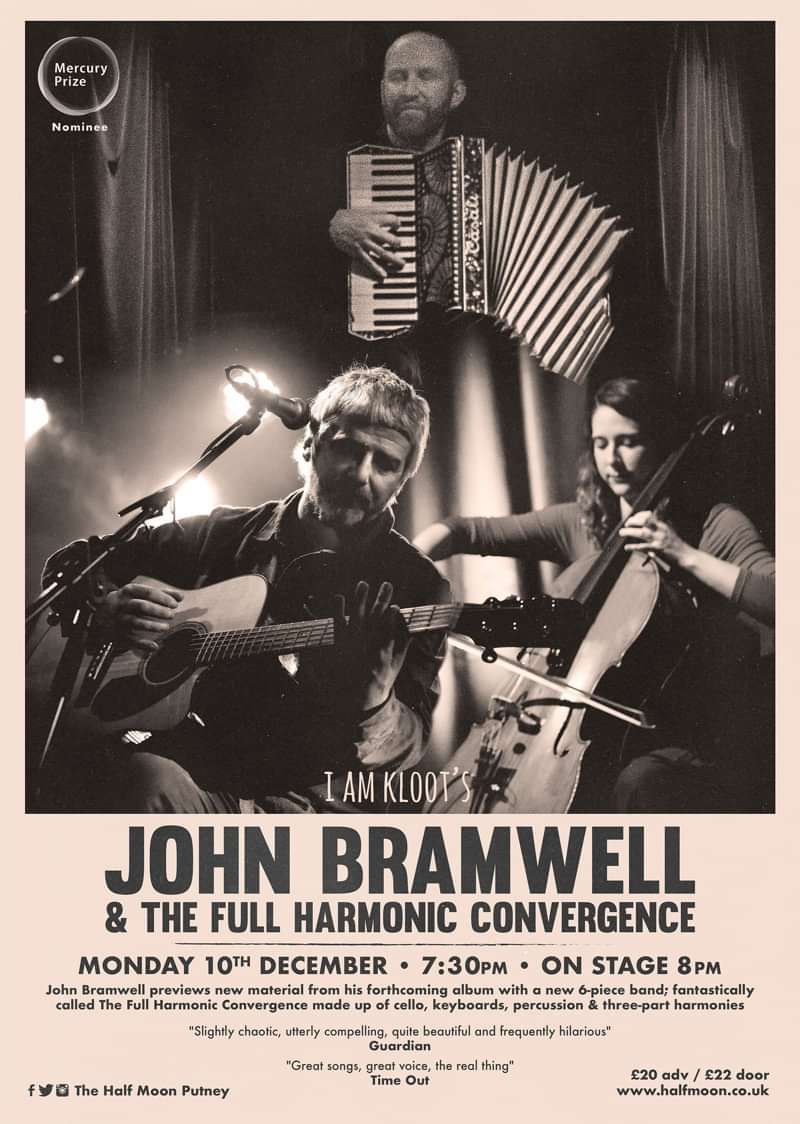 Half Moon presents:
John Bramwell And The Full Harmonic Convergence
John Bramwell (I am Kloot)
£20 Adv / £22 Door
Entry Requirements: 18+ after 7pm
John Bramwell previews new material from his forthcoming album "The Light Fantastic" with a new 5-piece band; fantastically called The Full Harmonic Convergence made up of cello, keyboards, percussion & three-part harmonies.
John has previously been nominated for The Mercury Prize with his first band, I Am Kloot and his debut solo album made it to Number One in the iTunes chart earlier this year.
Please note that John will be on stage from exactly 8pm and the show will finish no later than 10pm
Line Up
John has been performing as a solo artist and band member for over 30 years. His unique guitar style and distinctive vocal style first broke big worldwide at the backend of the 90s, when Bramwell fronted 3 piece I Am Kloot. Along the way they have released 10 albums, over an almost 20 year history. Each one a brilliant showcase for the vast catalogue of songs John Bramwell has lovingly created.
I Am Kloot were Mercury nominees in 2011, with their masterpiece, the exquisite Sky at Night, produced by Guy Garvey & Craig Potter from Elbow. The follow up, Let It All In was equally as successful reaching the Top 10 albums in 2012.
Leave Alone the Empty Spaces, released Autumn 2017, is John's first collection of songs since then. A singer and songwriter of his abilities can't fail to deliver another masterpiece. This show will feature much of that new album, as well as the finest of his back catalogue.