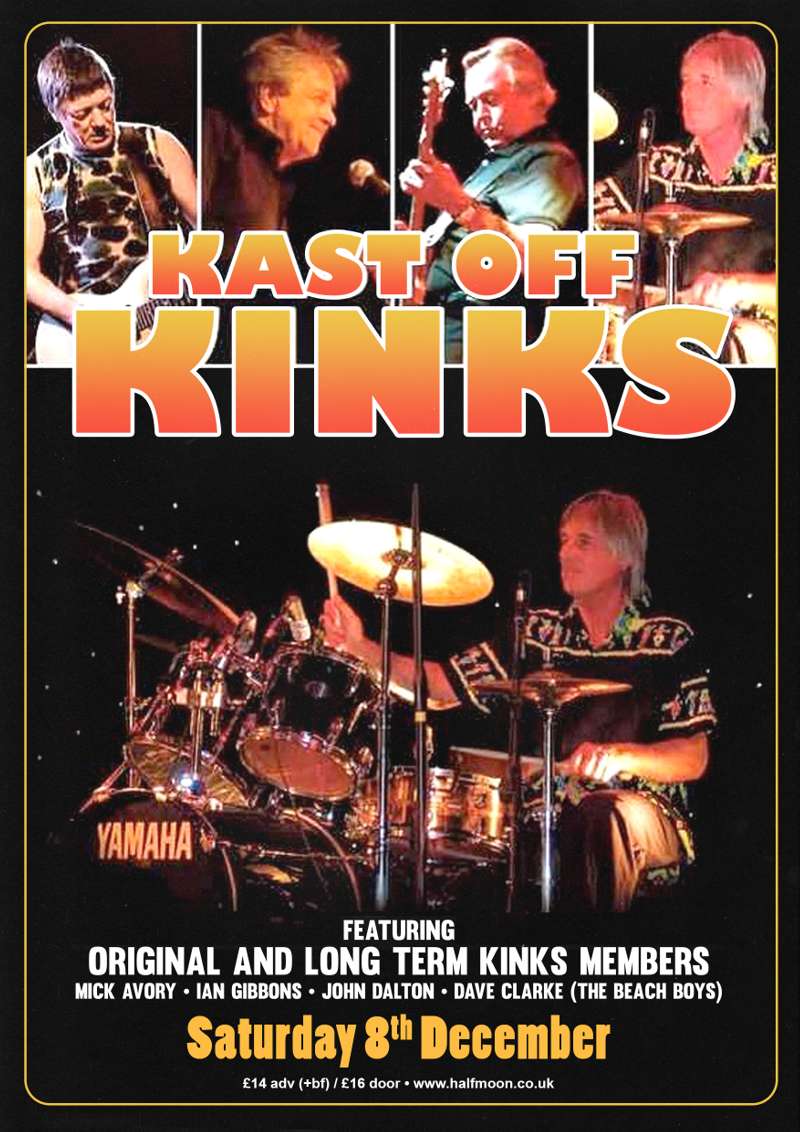 Half Moon presents:
Mick Avory's Kastoff Kinks
Kast Off Kinks
£14 adv / £16 door
Entry Requirements: 18+ after 7pm
Sorry this show is now SOLD OUT - the band will be back with us in March, tickets here
The iconic British rock band, The Kinks, are often cited as one of the most important and influential rock bands of all time.
Their first hit, You Really Got Me, in 1964, broke new ground with driving power chords and Dave Davies' distorted guitar sounds, and created a template for many bands to follow in a rock and roll development which led variously to heavy metal, new wave and grunge.
Later work saw the band's style change to more melodic songs, highlighting Ray Davies' lyrical and observational skills in songs like Sunny Afternoon, Dead End Street and Waterloo Sunset.
Although the band's popularity in the UK waned in the 1970s, they found new commercial success, particularly in the USA, in the late 1970s and early 1980s, and returned to the UK top 20 in 1983 with Come Dancing. The Kinks continued as a recording and gigging band until 1996, when the Davies brothers went their separate ways with solo careers.
During the band's 32-year career, there were some changes in personnel, Pete Quaife, the original bassist, was replaced by John Dalton in 1969, and keyboard player John Gosling was added in 1970. Following the two Johns' departure in the late 1970s, Jim Rodford became the Kinks' bassist (after a short tenure by Andy Pyle) and Ian Gibbons took over on keyboards. Original drummer Mick Avory left the band in 1983, to be replaced by Bob Henrit. Mark Haley played keyboards for a period in the late 80s/early 90s.
The Kast Off Kinks formed in 1994 to keep the music playing on, and it is what the name implies - the original line-up consisted of the band that played Lola (apart from Ray and Dave) - Avory, Dalton and Gosling - together In 2009, the line-up became the band that played Come Dancing - Avory, Gibbons and Rodford (respectively the Kinks' longest-serving drummer, keyboard player and bassist) - still with Dave Clarke covering for the Davies brothers. Jim then became very busy playing with The Zombies and Argent, so John Dalton was persuaded out of retirement and now plays very regularly with The Kast Off Kinks .
Almost every other ex-Kink has guested with The Kast Off Kinks, including Ray Davies.
Line Up
This is not just a tribute to the legendary band, but features three actual long term members of the 'The Kinks'.
This great line-up features Mick Avory (the original drummer on all the classic hits from 1964-'84), John Dalton (bass/vocals, Kinks 1966 & 1969-'76), Ian Gibbons (keyboards/vocals, Kinks 1979-'96 and still with Ray Davies) with Dave Clarke (guitar/vocals, formerly of the Beach Boys, Noel Redding & Tim Rose).
Expect a night full of hits including: You Really Got Me, Dedicated Follower of Fashion, Sunny Afternoon, Lola, Days, Waterloo Sunset, Come Dancing, plus much more….
"A full house, and a standing ovation. To anyone wondering about going, do not hesitate" (The Stables, Milton Keynes)
"Nothing short of superb. From start to finish it was filled with hit after hit" (Mad Ferret, Preston)
https://www.youtube.com/watch?v=cvukzUIkF0E https://www.youtube.com/watch?v=5232251Wjak