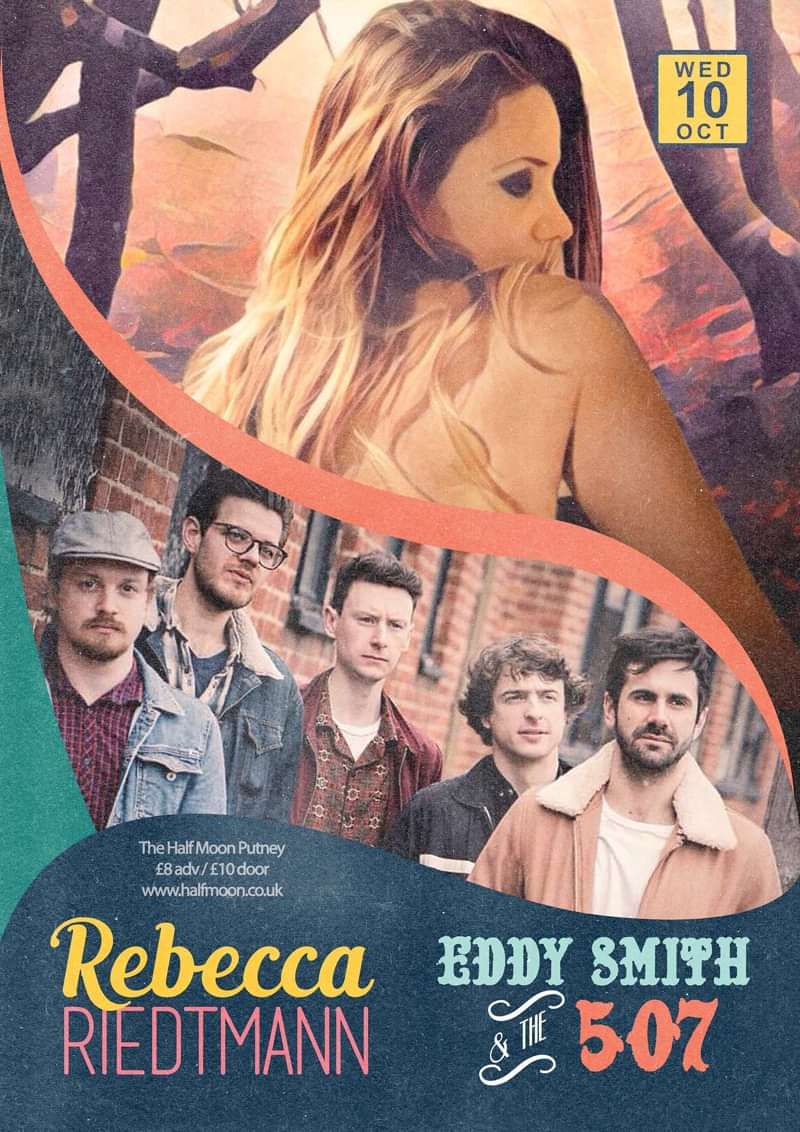 Half Moon presents:
Rebecca Riedtmann / Eddy Smith & The 507
Rebecca Riedtmann + Eddy Smith & The 507
£8 Adv / £10 Door
Entry Requirements: 18+ after 7pm
Double headline show
Rebecca Riedtmann writes enchanting Americana and soulful blues. She brings her full band to The Half Moon to perform songs from her debut album Not All Who Wander Have Lost Their Way, a 'delightful collection of measured, heartfelt songs and an engrossing and intelligent body of work that will strike a chord on both sides of the Atlantic'.
---
Eddy Smith and the 507 The London-based Country Soul & Blues band, who's lead vocalist has been compared to the likes of Joe Cocker, Don Henley and Ray Lamontagne, will be releasing their debut album later this year.
Line Up
A captivating and atmospheric slice of UK Americana." Paul Sexton, journalist / broadcaster (Sunday Times, BBC Radio 2)
Surrey-based Rebecca has been steadily establishing her unique place on the UK Americana scene with performances on BBC1, at the Isle of Wight and Black Deer Festivals and at venues such as the Bedford, the Brunswick and The Sound Lounge, where she was featured among artists to look out for in 2018 by journalist-broadcaster Paul Sexton.
Her debut album 'Not All Who Wander Have Lost Their Way' is a delightful showcase for her powerfully intimate songs, all invested with heartfelt lyrics and smoky delivery on a compelling record that will stand tall on the ever-growing UK Americana scene. Rooted in the traditions of soulful blues and tinged with influences from pop-rock, the music is presented in Rebecca's own authentic voice. The album features a wide range of instrumentation and fine performances by her fellow musicians including harp from Tom Moth (a key member of Florence + the Machine), David Rothon (The Redlands Palomino Company), Ed Jordan, Keiron Marshall, Shemeck Fraczek and Tim Doble.
Riedtmann shows all the classic traits of the true artist, conjuring lyrics that speak of real life and melodies and riffs that reel you in from the first listen. If you've ever enjoyed the music of Frazey Ford of the Be Good Tanyas, Stevie Nicks, Suzanne Vega, K.T. Tunstall or Norah Jones you'll feel right at home here.
www.rebeccarie.com www.facebook.com/beccarie https://twitter.com/Rebecca_rie https://www.instagram.com/rebecca.rie/ https://www.youtube.com/channel/UCfo-F8NDj7f33rsI1g9z9qw
"The finest meshes of Soulful Blues and melodic Pop you will hear this year" - The Blues Mag
Since being named "Best Unsigned Band" at the Best of British: Critic's Choice Awards back in 2015, Eddy Smith & The 507 have been focusing their efforts on finding their sound, and honing their crafts as songwriters, musicians and performers. ​ Now, after 2 years of writing and gigging all over the UK, namely at their popular London residency, The Troubadour, which, in recent years has seen performances from Amos Lee, Adele and Laura Marling among others, The 507 are excited to announce the completion of their debut album, working alongside award-winning Producer, Stacy Parrish. ​ "The Soul in Eddy's voice is where I want Music to be at." - Huey Morgan, Fun Loving Criminals, BBC 6 Music.
A Soulful blend of Blues, Rock and Pop, the debut album consists of 10 original songs, all produced by Stacy Parrish at his recording studio in Sweden. Stacy has worked with some of the biggest names in music, including Robert Plant, Alison Krauss, Randy Newman, and has a Grammy certificate for his work on the Krauss / Plant Collaboration album, Raising Sand. ​ https://www.eddysmithmusic.com/ https://www.facebook.com/eddysmithmusic