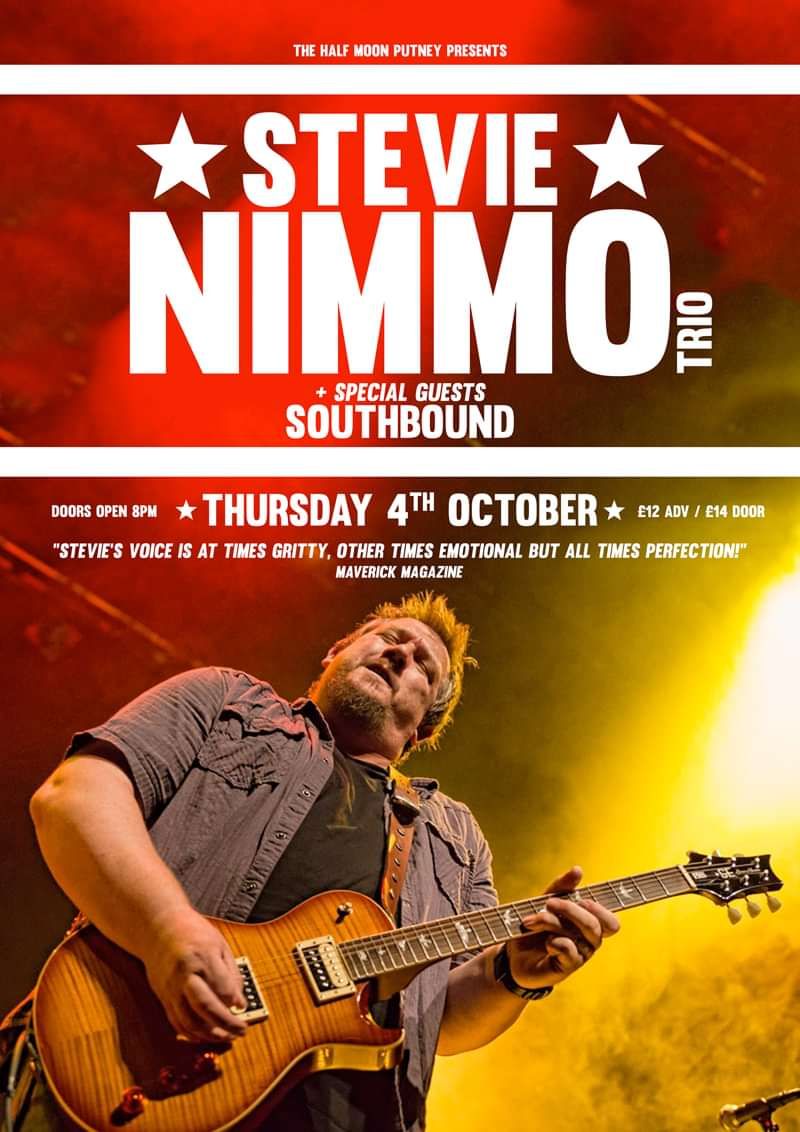 Half Moon presents:
Stevie Nimmo Trio
Stevie Nimmo + Southbound
£12 Adv / £14 Door
Entry Requirements: 18+ after 7pm
As one half of Scotland's highly respected 'Nimmo Brothers', Stevie Nimmo has been a well known and respected figure throughout the blues and roots world for over 2 decades.
Now, having toured extensively with the critically acclaimed blues rock outfit over the last few years, as well as taking to the road in a stripped back, acoustic format to promote his debut solo project 'The Wynds of Life', Stevie is now in full stride with his full-on, electric, no-holds-barred trio format. Stevie says that, although the acoustic project is extremely satisfying and allows him to showcase his voice and song writing talents in the perfect environment, sometimes "…you just want to break out the Les Paul or strat, crank up the old orange amp and make some noise!" Which is exactly what he plans to do.
Stevie's latest cd 'Sky Won't Fall' was released world wide in 2016 on the Manhaton Records label and it has already been voted album of the year by those in the media and by his fans.
Stevie is enjoying making music now as much as at any point throughout his 20 years in the business and is fully relishing the prospect of continuing to tour and perform to his ever-growing army of admirers throughout 2017 and beyond.
Don't miss this chance to catch an artist at the top of his game doing what he does best – standing on stage playing his own music in his own passionate, inimitable fashion.
You will not be disappointed!
Line Up
Stevie Nimmo has been successfully recording and touring for the last two decades. Born and raised in Glasgow, Scotland there was always music around as Stevie grew up. Stevie never had any guitar or singing lessons but throughout the family there were plenty of people who sang or played some kind of instrument to learn from.
After a diagnosis of cancer in 2009 and subsequent surgery resulting in the loss of his voice for over 2 months, Stevie, now living in France, was forced to ease back on his touring schedule with The Nimmo Brothers spending some months in recovery following this major operation. During this period, focusing on the style of music Stevie listens to 'off the park', he wrote the songs that now make up The Wynds of Life. For Stevie song writing isn't something that you plan, it's something that you need to do. As Stevie says; "When you have that something inside you, that feeling be it happy or sad, you just have to let it out. It's an extremely emotional process and my only way to do that is through song".
In January 2010 Stevie recorded his first solo album The Wynds of Life at The Zone recording Studios outside Austin, Texas with an A-list of Austin's finest musicians. Michael Ramos – Keys, George Reiff – Bass, Lloyd Maines – Steel Guitars, Pat Manske – Drums, and as a special guest guitarist David Lee Holt from Storyville. George, Lloyd and Pat are also featured on the current Courtyard Hounds release.
Fleshed out with pedal steel, banjo, accordion, B3 and Wurlitzer, amongst other instruments, The Wynds of Life falls just as easily under the Americana banner with its roots, country and gospel influences as it does in Stevie's more familiar blues setting.
'Man that guy can sing!' David Grissom (storyville)
'Stevie's voice is at times gritty, other times emotional but all times perfection!' Maverick magazine
'Stevie possesses a great depth to his work. He has come through with an album befitting those lending support and that pretty much says it all.'
Displaying a burning passion to get down and dirty, he becomes neck deep in the swampy Louisiana side of things when he comes up with a future blues steeped rock gem as 'Long Road To Heaven'.. Muscle Shoals at its peak would be proud of having recorded this track!' Flyinshoes review
Stevie's second album was released on Manhaton Records on 4th March 2016 and has gone on to garner reviews including 'Blues album of the Year'
In 2016 Stevie was also nominated at the British Blues Awards for 'Best Male Vocalist', 'Best Guitarist' and 'Best Songwriter' with The Nimmo Brothers nominated in 'Best Blues Band'.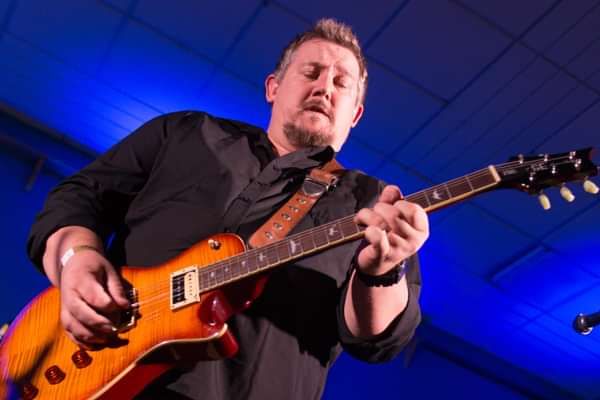 With an average age of 21, Southbound are by no means the usual suspects when it comes to the blues rock genre. Southbound take American blues and inject it with a young British fire with the results being an enjoyable unique blend of the two. Performing a set of original self penned songs, Southbound are sure to surprise anyone expecting the sameold blues structures and turn arounds.
The guys love to put on a entertaining show and are kicking up quite a storm, they have both headlined and played at well some very known venues, and have also opened for some well known household named acts. They have also performed at many Rhythm and Blues festivals around the UK and are excited to be supporting Stevie Nimmo again in 2018 at the excellent Half Moon Putney.
Currently the band are recording their first full studio album which is scheduled for release later in 2018.
For Southbound Band News, Music, Videos, Future Gig and Festival dates please look them up their web pages on: