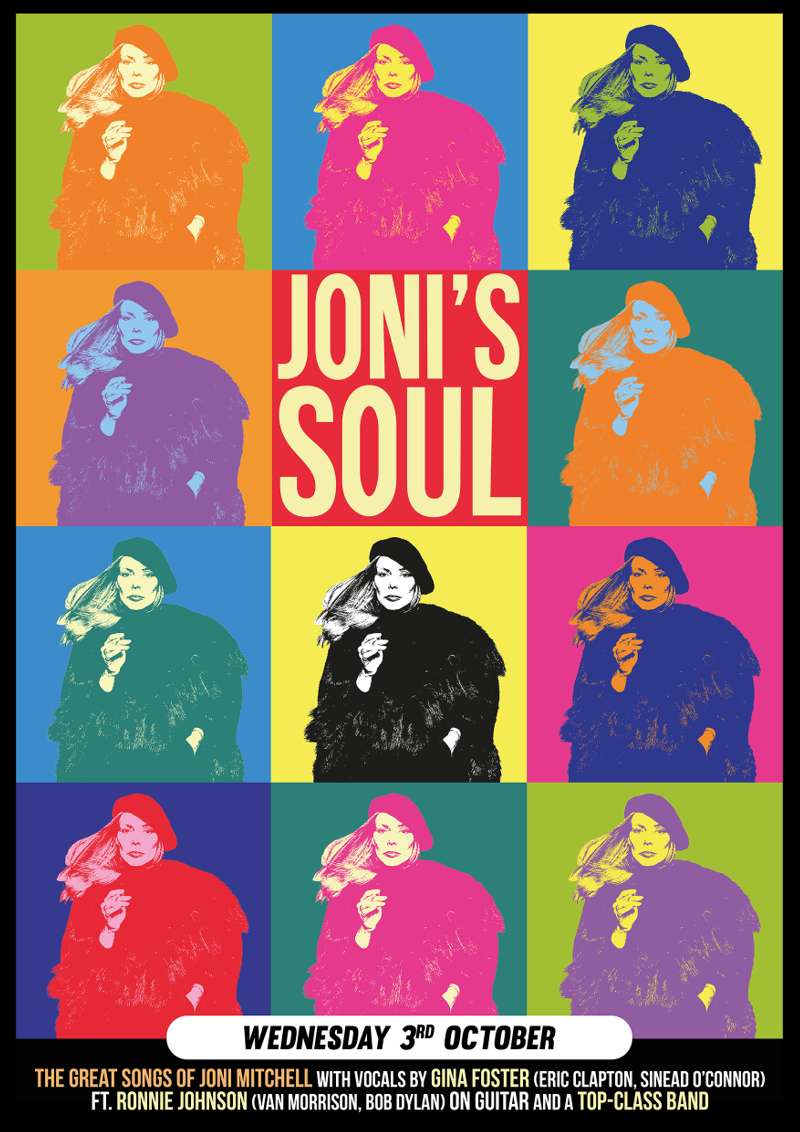 Half Moon presents:
Joni's Soul
£10 adv / £12 door
Entry Requirements: 18+ after 7pm
JONI'S SOUL was formed with an all-star line-up in Summer 2014 to celebrate the brilliant and prolific work of Joni Mitchell. Contemporary interest in her music and personal history has never been so strong since her 2001 musical retirement, and even before her more recent serious health problems she was clear there were to be no future live performances. Interest and expectation for the Joni's Soul show has therefore been immense amongst Joni's numerous and devoted fans. Her own website jonimitchell.com previewed Joni's Soul's inaugural July 2014 debut performance in full and continues to track the bands' activities.
The five piece band, led by the beautiful from-the-heart vocals of Gina Foster (formerly with Eric Clapton, Sinead O'Connor) and guitarist Ronnie Johnson (Van Morrison, Bob Dylan), draw on their own emotional response to these songs to look beyond merely the faithful reproduction of the Joni Mitchell songbook and shine a light on the most soulful aspects of her words and music. The band is completed by Patrick Johnson - acoustic and electric guitars, Graham Harvey– keyboards (Incognito, George Benson), Steve Pearce– bass (Paul Carrack, Everything But The Girl), Richard Bailey – drums (Stevie Winwood, Jeff Beck)
Coyote, Hejira, Edith and the Kingpin, The Hissing of Summer Lawns, River, Trouble Child, Help Me and Gina Foster's gorgeous version of Both Sides Now - it's through songs like these that the band explore the unique songwriting, harmonic concept and gift of performance Joni Mitchell revealed in her iconic albums Blue, Court and Spark, Hejira, The Hissing of Summer Lawns and beyond …
"A captivating evening of world class music... a musical journey full of interwoven word plays and melodic sweeps."
Get Ready To Rock
This BBC Radio 4 programme broadcast in September as a paean to Joni Mitchell includes an interview with Gina Foster and remains on the BBC site catch-up (the link is on Joni's Soul website also) - http://www.bbc.co.uk/programmes/b0952jk9