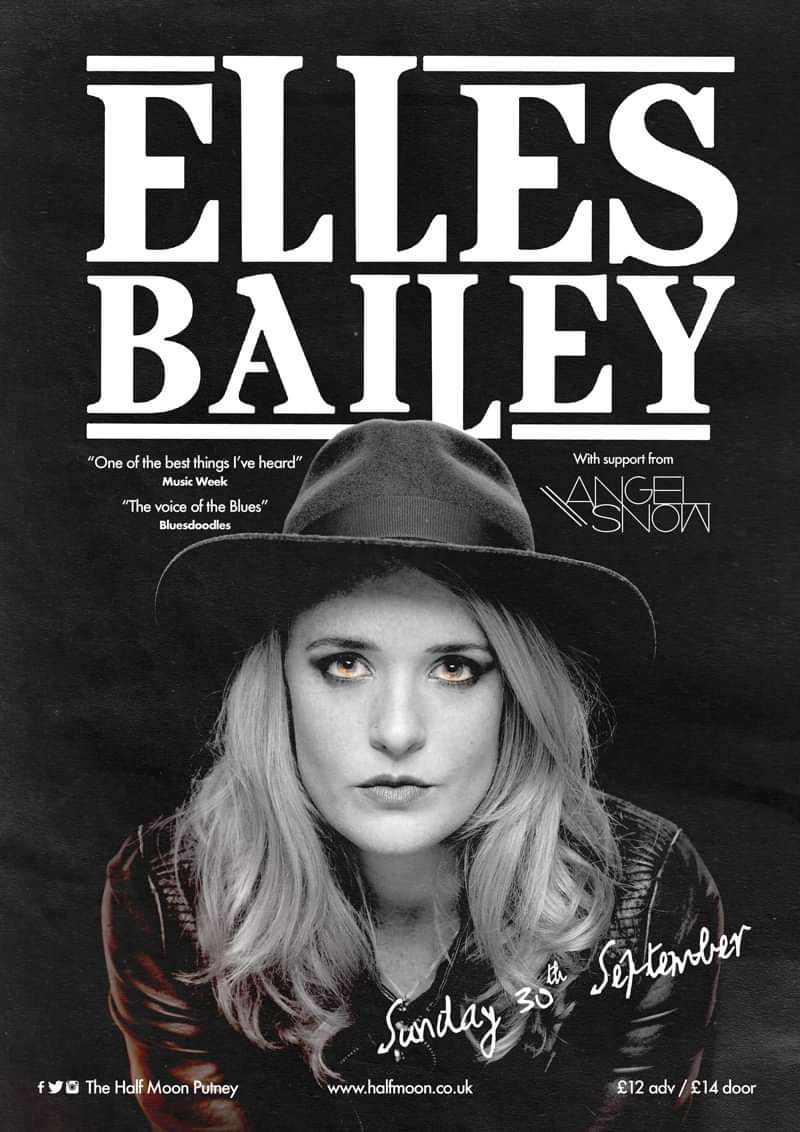 Half Moon presents:
Elles Bailey
Elles Bailey + Angel Snow
£12 adv / £14 door
Entry Requirements: 18+ after 7pm
Elles Bailey brings her Road to Call Home Tour to The Half Moon Putney
Rising star Elles Bailey continues her onwards and upwards ascent of the mountain of country rock heading for the high ground and peak, and is announcing 'The Road I Call Home Tour' that will hit the road itself this Autumn 2018.
Prior to this, Elles will be playing festivals, HRH Crows and The Carlisle Blues Festivals, in September, but is looking forward to undertaking her own headline tour thereafter.
'The Road I Call Home Tour' is my biggest headline tour to date," says Elles herself, "and I am so excited to play some brand new cities, some old favourite places and share this new album I've been working so hard on."
Elles' new material follows on from her successful and critically-acclaimed debut album, 'Wildfire'. Maverick Magazine awarded 'Wildfire' top marks (5/5) and predicted that "If Bailey can follow this album up with something equally as good as 'Wildfire', there's no reason why she can't hit the heights (Taylor) Swift did" With her new material, Elles proves that she can successfully continue that climb.
Live venues and performance are important to Elles Bailey, crowned "The Blues Princess" by Blues in Britain. She's brought her genre-crossing music to fans in her own headline tours before, and also played festivals and toured with other artists, like Jo Harman, Wille & The Bandits, and Eric Gales. She's also, this year, been promoting the work of small, independent music venues, like Little Rabbit Barn, for whom Elles recorded a special set of downloadable tracks to support them.
FREE DOWNLOAD HERE : https://show.co/UTURI37
Bristol-based Elles Bailey has a talent for crafting and seamlessly weaving rootsy blues, country, and soulful rock, with a contemporary edge. Her music draws on these roots and Ingredients, blending and transcending them, with each song given a unique flavour and texture by Elles' unique, super-smoky, utterly unforgettable voice. Bluesdoodles dubbed her "The Voice of the Blues", whilst Music News observed that "A childhood illness gave her a remarkable tool and she uses it to its very best effect. One of the best things I've heard."
Do not miss the chance to experience this rising star, with her unique voice and amazing new material, in her natural habitat of live performance, taking some new songs to new cities.
For more information on Elles, check out www.ellesbailey.com
SUPPORT comes from Nashville's Angel Snow
Line Up
Bristol based Elles Bailey (28) seamlessly weaves rootsy blues, country and soulful rock with a contemporary edge and her trademark 'smoky vocals' taking the lead. Her husky toned, lived-in voice sounds like she has a 60-a-day habit, but was actually caused by a serious illness when she was three. To save her, surgeons had to place a tube in her throat for seventeen days to allow her to breathe, affecting her voice giving it that 'blues feulled' quality that is getting her recognition wherever she sings.
Her two EP's, both produced by Brian Banks, (Michael Jackson, Lionel Richie) 'Who I Am To Me' (Feb 2015) and 'The Elberton Sessions' (Oct 2016) were released to critical acclaim, and her debut album 'Wildfire' is set to drop Summer 2017.
No stranger to the scene, over the last three years, this captivating, hard-working songstress and her talented band have built up a loyal all-age fan base through relentless touring, through both the UK and Europe. She's opened for acts like Wille & The Bandits. Jo Harman and shared festival line-ups with Lisa Simone, The Mystery Jets & Wilko Johnson.
Elles has just finished recording her debut record at Blackbird studios in Nashville, which has played hosts to artists such as Taylor Swift, Kings of Leon and Chris Stapleton to name but a few. Produced by Brad Nowell, the album features world-renowned country and blues musicians, including Grammy Award winner and a two-time winner of the CMA 'Musician of the Year' Brent Mason on guitar, pianist Bobby Wood 'Musician Hall Of Famer' 3 Times Over and more. One of the tracks on the record has been co-written with Ivor Novello Award writer Roger Cook. 'Wildfire' the title track, penned by Elles & Joe Wilkins (Elles touring band ) is the first single from the record.
2017 looks set to be a very busy year for Elles with over 36 dates scheduled in the run up to her debut album release late spring & her festival diary is filling up very quickly. Elles featured at The Great British Rock and Blues Festival in Skegness and is currently opening for soul singer Jo Harman on her 'People We Become' tour before heading out on her own headline tour of the UK & Europe in Spring 2017. Through summer she will embark on playing prestigious festival slots across the country including mainstage slots at Upton Blues Festival & The Great British Rhythm and Blues Festival, Colne before touring again in October.
Like many artists today, Elles is breaking down the barriers of traditional genres, taking inspiration from many and fusing them together to bring you her own unique sound, which is earning her a legion of devoted fans, young and old, from across the UK and further afield.
Critical acclaim for Elles Bailey:
'It's safe to say that Miss Bailey is probably the best new blues prospect in the last decade and this latest set only goes to confirm that' The Rocker
'One to watch for 2017' Country Music Magazine
A Great Voice' BBC 6 Music
'Smoky Blues that fizzles with Pop Appeal' Songwriting Magazine
'2016 has seen Elles and her band create major waves around the UK with their dazzling blend of rootsy blues and soul, with a recent bout of writing and recording over in Nashville and dates with Wille & The Bandits, Elles continues her rapid ascent to the top'. Slap Magazine
'Gritty, southern, smoky vocals that have a real bluesy/country feel to them' Maverick Magazine
"Elles Bailey gave it all, the complete package, energy, swagger and soul, whilst her band matched her passion and drive laying down hook after hook. Blues Princess, maybe, but with performances like this Elles will soon be taking the throne by storm"
Blues in Britain
'This six track EP impressed me on every level. And wow, what a great voice, too' Blues Matters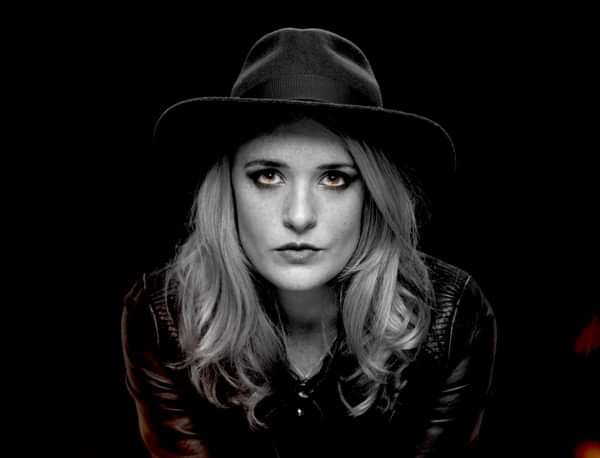 As the years ebb and flow, we eventually return to our roots ready to embrace who we were all along. While working on her second full-length album and first for NETTWERK, Magnetic, atmospheric pop chanteuse and songwriter Angel Snow experienced something of a revelatory awakening. As a little girl in Nashville, TN, the songstress's older brother introduced her to the electronic sonic palette of Brian Eno, Aphex Twin, and Trent Reznor, and she found herself painting with a familiar brush…
Building a repertoire as an in-demand songwriter and acclaimed independent artist, Angel's road twisted and turned to get to this point. She wrote three songs on GRAMMY® Awardwinning singer Alison Krauss's 2011 offering, Paper Airplane, as Nashville's Music Row crowned her, "Nashville's next stealth pop weapon." Her 2012 self-titled debut spawned "These Days," which notched 6 million-plus Spotify streams and earned acclaim from American Songwriter. After touring the globe, she desired to expand and evolve her style beyond traditional Americana and folk. Enter producer Lee Groves [Goldfrapp, Depeche Mode]. In December 2014, Angel began making regular trips to New York in order to cut ambient textural tracks. Her hypnotic delivery and cinematic lyrics perfectly entwines with Lee's immersive and airy production, conjuring a spellbinding style.
"Every single song has a specific and significant story to tell," she goes on. The songs themselves are simple, but there's a lot of open space. It can get emotional and theatrical."
In 2016, she teased out her new found sound with the powerful plea of "I Need You" and irresistible "Secret." Online influencer Ingrid Nilsen utilized the latter to soundtrack her "Something I Want You To Know (Coming Out)" YouTube video, which amassed over 16.2 million views. As the song went on to crack 1-million streams on Spotify, NETTWERK founder Terry McBride personally reached out to Angel online with a deal.
The music of Angel Snow siphons stories of love, life, and loss through a dreamscape of drum palpitations, keyboard eloquence, and stark minimalism. All within a haze of gorgeous musical alchemy. The 2017 single "Photographs" fuses lithe acoustic guitar and a snappy beat before culminating on an undeniable refrain.
For years, she hesitated to use the sounds that most deeply moved her out of fear. Becoming willing to be completely vulnerable and lean into the sonic textures that made her feel most alive, Angel Snow has found the freedom to create art that she was instinctually drawn to.
Listen to Angel Snow's music on Spotify: [https://embed.spotify.com/?uri=spotify%3Aartist%3A4awtkia1cywuwJ2OrxNw6j]