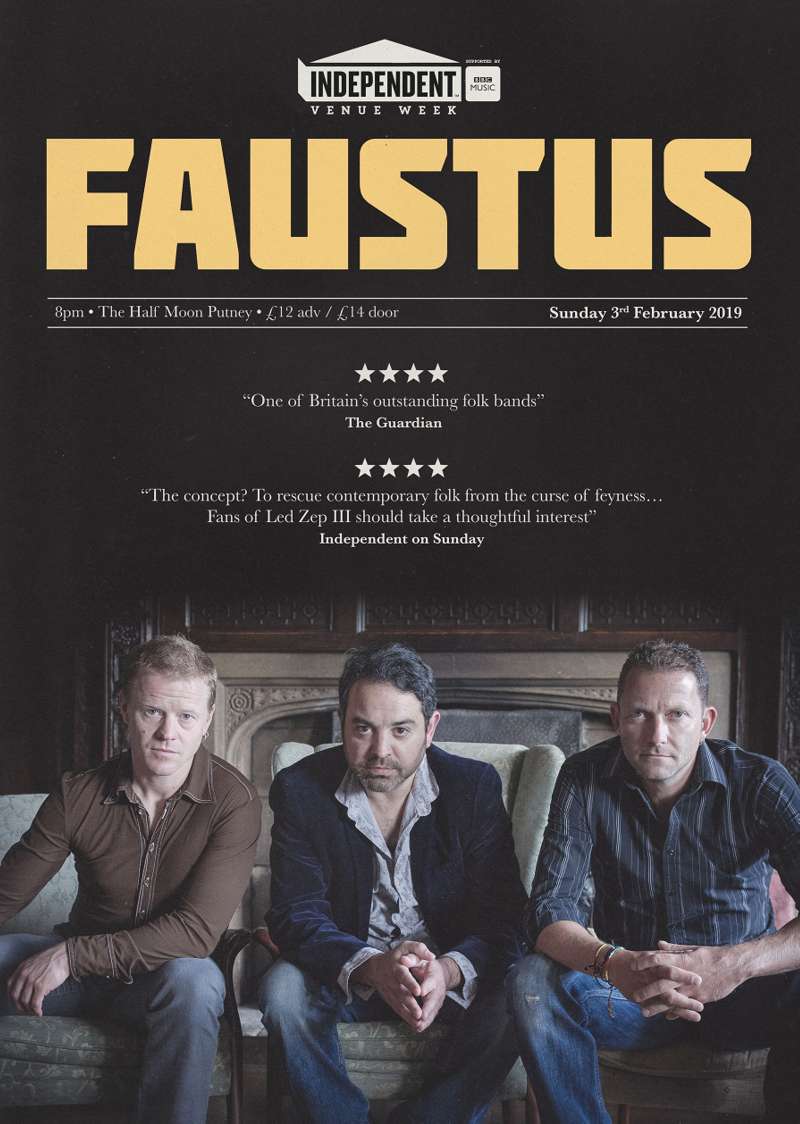 Half Moon presents:
Faustus
Faustus + Glymjack
£12 Adv / £14 Door
Entry Requirements: 18+ after 7pm
FAUSTUS are an English tradition folk trio, nominated in the 2009 BBC Radio 2 Folk Awards, featuring three of the leading lights of their generation of folk artists: Benji Kirkpatrick (Seth Lakeman Band, Bellowhead), Saul Rose (Waterson:Carthy, Whapweazel) and Paul Sartin (Bellowhead, Belshazzar's Feast). Rooted deeply in the English tradition, in 2007 they received a 75th Anniversary Award from the English Folk Dance and Song Society.
'One of Britain's outstanding folk bands.' - ★★★★ The Guardian
'The concept? To rescue contemporary folk from the curse of feyness… Bloke-folk!… Fans of Led Zep III should take a thoughtful interest.' - ★★★★ Independent on Sunday
'Everything that's best in modern traditional music' - Acoustic Magazine
'Dynamically fascinating to watch, entertaining and intriguing' - Folk & Roots
Support is from GLYMJACK Following the amazing response to the album they've made with Show of Hands, and the rapturous reaction to their live act on the UK folk circuit, Glymjack's acoustic duo – described as "Show of Hands meets Eliza Carthy" – play as part of their Light the Evening Fire tour.
Why not book a pre-concert table for dinner here
Line Up
FAUSTUS:
BENJII: Benji Kirkpatrick was a key member of the recently disbanded folk big band and BBC Award winners Bellowhead. He has recently joined folk rock super group Steeleye Span, and spent three years in the Seth Lakeman Band having featured on Seth's successful releases 'Kitty Jay' and 'Freedom Fields'. He has also released four solo albums; the latest 'Hendrix Songs', saw him strip back the songs of his hero and set them in a new, acoustic light. In summer 2016, as part of the Shakespeare 400 celebrations, Benji was involved in 'The Fairy Portal Camp' at the Royal Shakespeare Ccompany in Stratford upon Avon. Musicians, actors and dancers collaborated to produce new works every day for a week, working up to a final performance which opened 'the fairy portal'… Benji has also worked with numerous other artists including Oysterband, John Jones, Maddy Prior Thea Gilmore and Joan as Police Woman. He has recently formed a new trio. 'Benji Kirkpatrick and The Excess', to perform his own songs.
SAUL: Saul Rose was a long time member of Waterson:Carthy, winning two BBC Radio 2 Folk Awards with 'Broken Ground' and forming a duo with Eliza Carthy. The double album 'Red Rice', of which Saul was an integral part of the 'Rice' half, was nominated for the Mercury Music Prize in 1998. More recently Saul has joined Whapweasel, played in Ruth Notman's band, and formed a duo with James Delarre (of Mawkin). He is a founder member of new folk big band Eliza Carthy and The Wayward Band. He has played on numerous albums as a guest, including Jackie Oates' album 'Hyperboreans', Norma Waterson and Eliza Carthy's album 'The Gift' and the soundtrack for the films 'Morris- A Life With Bells On' and 'Far From The Madding Crowd'. He was nominated for the Musician of The Year award in the 2010 BBC Folk Awards and during 2011 took the part of Songman in the West End play War Horse.
PAUL: A member of the late Bellowhead, as well as BBC Folk Award-nominated duo Belshazzar's Feast, Paul is Director of the Andover Museum Loft Singers. Following the 'Bellowhead Songbook', his latest publication is 'Community Choirs Folk' for Faber Music. Recent broadcast appearances include BBC Radio 2's 'Clare Balding Show', 'Chris Evans Show' and BBC Radio 3's 'In Tune' and 'The Choir'. Having received a BASCA nomination for 'The Hartlepool Monkey' with Streetwise Opera, he has been commissioned to write music for Central School of Speech and Drama; Broadstairs Folk Week; Sidmouth Folk Festival and the Southbank; Somerville College, Oxford; and BBC Radio 4's 'Playing the Skyline'. He arranged and directed the music for the recent revival of 'The Transports' (Guardian *****).
During 2016 Faustus were Artists in Residence at Halsway Manor, National Centre for the Folk Arts, in the Quantock Hills of Somerset, where they had unlimited access to the Manor's extensive library, and where Faustus's latest album 'Death and Other Animals' was recorded, including four newly-unearthed songs unique to Halsway's little-known Ruth Tongue archive.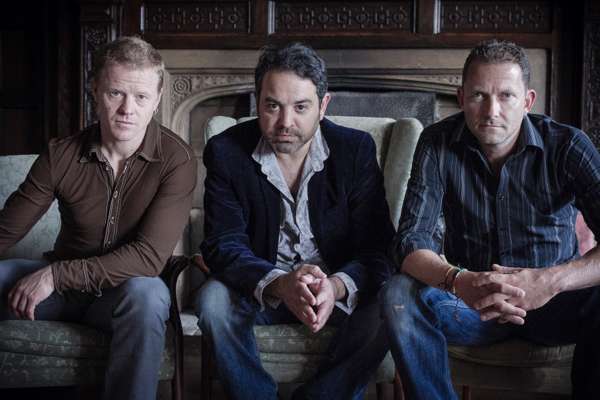 Glymjack is an English folk act Acoustic calls "as good as contemporary folk comes".
Led by singer-songwriter Greg McDonald, Glymjack generally play live as an acoustic trio with Greg joined by fiddle virtuoso Gemma Gayner and bassist Dickon Collinson, delivering a high energy, harmony-rich set of hard-hitting originals, English folk songs and fiddle tunes. For bigger gigs Glymjack expands to a six piece festival band line-up.
Featuring Show of Hands legends Phil Beer, Steve Knightley and Miranda Sykes, Glymjack's debut album Light the Evening Fire has been a critical hit: "spectacular" - Maverick, "Wow!" - Tom Robinson, BBC 6music, "folk-roots with attitude" - Froots.
The term "Glymjack" is Victorian criminal underworld slang for a street child who led strangers through the streets of London at night with a lantern.
GLYMJACK ONLINE Website: www.glymjack.com EPK: www.glymjack.com/epk
PRESS "As good as contemporary folk comes" – Acoustic "Folk-roots with attitude" – Froots "Wow!" – Tom Robinson, BBC 6music "One of the albums of the year" – Quiet Revolution "Virtually every song is a tour-de-force" – Maverick
FOLK PROMOTERS "Terrific, stylish, energetic musicianship" – Jo Tuffs, Director, Broadstairs Folk Week "The reports were right! - what a fantastic set!" - Kevin West, Chair, Banbury Folk Festival "Wonderful music" – Della Hook, Red Lion Folk Club "Leaves the audience wanting more" - Bob Ford, Director, Wessex Folk Festival "Great!" – Kieron Jones, Hitchin Folk Club "Wonderful!" – Ruth Bramley, Cambridge Folk Festival "Fantastic live act" – Roger Pitt, St Neots Folk Club