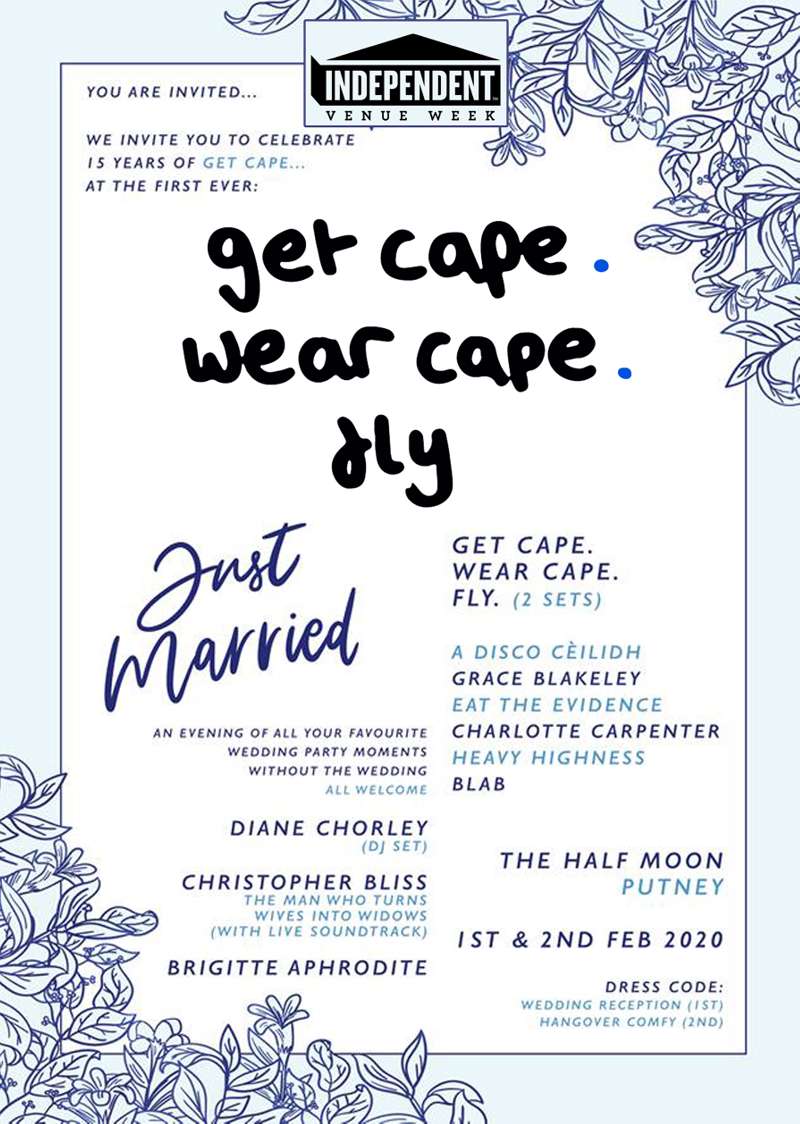 Half Moon presents:
Get Cape. Wear Cape. Fly.
Get Cape. Wear Cape. Fly + Eat The Evidence + Grace Blakeley + Charlotte Carpenter + Heavy Highness + Blab + Diane Chorley + Christopher Bliss + Brigitte Aphrodite + Disco Ceilidh
£25 Advance Weekend Ticket / £15 Saturday Only Ticket
Entry Requirements: 18+ after 7pm
As part of Independent Venue Week 2020
Just Married.
An evening of all your favourite wedding party moments, without the wedding.
Followed by a day of love, laughter and hope (and hangovers.)
Appearing across the weekend:
★Get Cape. Wear Cape. Fly
A veteran at 33, Sam Duckworth has been releasing music under the moniker Get Cape. Wear Cape. Fly for 14 years. His catalogue includes collaborations ranging from Baba Maal, to Shy Fx, Kate Nash to Jehst. It includes 4 top 40 singles, 2 top 40 albums, a German Club Number 1 and a gold certified plaque for the seminal "Chronicles of a Bohemian Teenager."
2 Sets, One full band, one playing the seminal "Chronicles of a Bohemian Teenager" in full as solo acoustic.
★Christopher Bliss "The man who turns wives into widows" (With live soundtrack)
Rob Carter's cult hit creation is back with a glossy revamp of his 2016 debut show. Christopher Bliss is Shropshire's greatest drivel-merchant. He's tackled novels, he's conquered theatre, now he's back to show you his most ambitious project: live cinema. This is an action-packed tale of wives, widows and everything in-between. As seen on Siblings (BBC), Peep Show and Fresh Meat (Channel 4). 'This is how character comedy should be done' ★★★★ (Chortle.co.uk). 'One of this year's hidden treasures… consistently, pant-wettingly funny' ★★★★ (Fest).
★Grace Blakeley
Grace Blakeley is a British author economics commentator and a research fellow at the Institute for Public Policy Research. She was appointed economics commentator at The New Statesman in January 2019. She is a democratic socialist, a supporter of the Labour Party and sits on the party's National Policy Forum. Blakeley's first book, Stolen: How to Save the World from Financialisation, was published Sep 10, 2019
★Diane Chorley (DJ Set)
Duchess of Canvey
"The most fun I had in a comedy show this Summer" Stewart Lee
"Raucously Jolly… as funny as a musical gig gets" Evening Standard
★Bridgette Aphrodite
Punk Poet, Song writer, Feminist-Showgirl. She also is the writer and performer of 'My Beautiful Black Dog' an original musical on depression, which toured the UK following a sold-out run at Edinburgh Festival Fringe in 2015. New show "Parakeet" an eco-punk, genre crossing, status quo defying musical about nature, friendship and fighting for what you believe in. Parakeet was performed at this year's Edinburgh Festival Fringe, with Paines Plough Roundabout at Summerhall. She has participated in numerous panel chats on mental health including The Bush Theatre, Trouble Club with Ruby Wax and Bestival.
★Disco Ceilidh
A modern twist on the traditional form, find a partner, swing them round, to the sounds of modern disco.
★Eat The Evidence
'Eat The Evidence blend danceable rhythms with genuinely thought provoking lines' Gigslutz
'Satirical ska-punk that sticks two fingers up at Theresa May' Clash
★Charlotte Carpenter
"A distinctly different kind of singer/songwriter sound, and one that makes for an enthralling listen." Best Fit
"Charlotte Carpenter is a storyteller, a young artist capable of applying an enormous impact." Clash
" An Independent artist to the core, Charlotte's star is rising" Total Guitar
Charlotte Carpenter is the perfect embodiment of independence, in charge of her own destiny and acclaimed by Total Guitar, Best Fit, NME, Clash and Classic Rock along side BBC Introducing, 2 & 6 Music. With a growing number of EP's and singles under her wing and alongside heavy touring with the likes of Marika Hackman, George Ezra, Ralph Pelleymounter, Get Cape. Wear Cape. Fly, Charlotte has brought herself to the forefront of alternative singer/songwriter's. "Shelter" and "Fire" turned the ears of Total Guitar Magazine, claiming her as a "Guitarist To Watch for 2017". 'Fire' caught the attention of Sky TV and picked up the ad for crime drama 'Shades of Blue' starring J-Lo. Single releases "Babywoman" and "Follow You Down" were heavily championed by BBC 6 Music and scored Charlotte a place at Latitude Festival for BBC Introducing. Following the success of her own record label 'Babywoman Records' Charlotte was invited to panel for BBC Introducing Live 2019 and she finishes off her busy 2019 of touring and self releasing to give a Tedx Talk on December 7th for Bold and Brilliant: Ted Women Day.
★Heavy Highness
5 Piece modern soul/rock from London.
★Blab
Indie punk rock from an Essex Girl.
—
Early Bird Weekend tickets £25, General Weekend tickets £30
(all weekend tickets valid both days)
Saturday 1st. Dress Code: My Best Friends Wedding 6pm - 1am
Sunday 2nd Dress Code: Hangover Comfy 1pm - 8:30pm