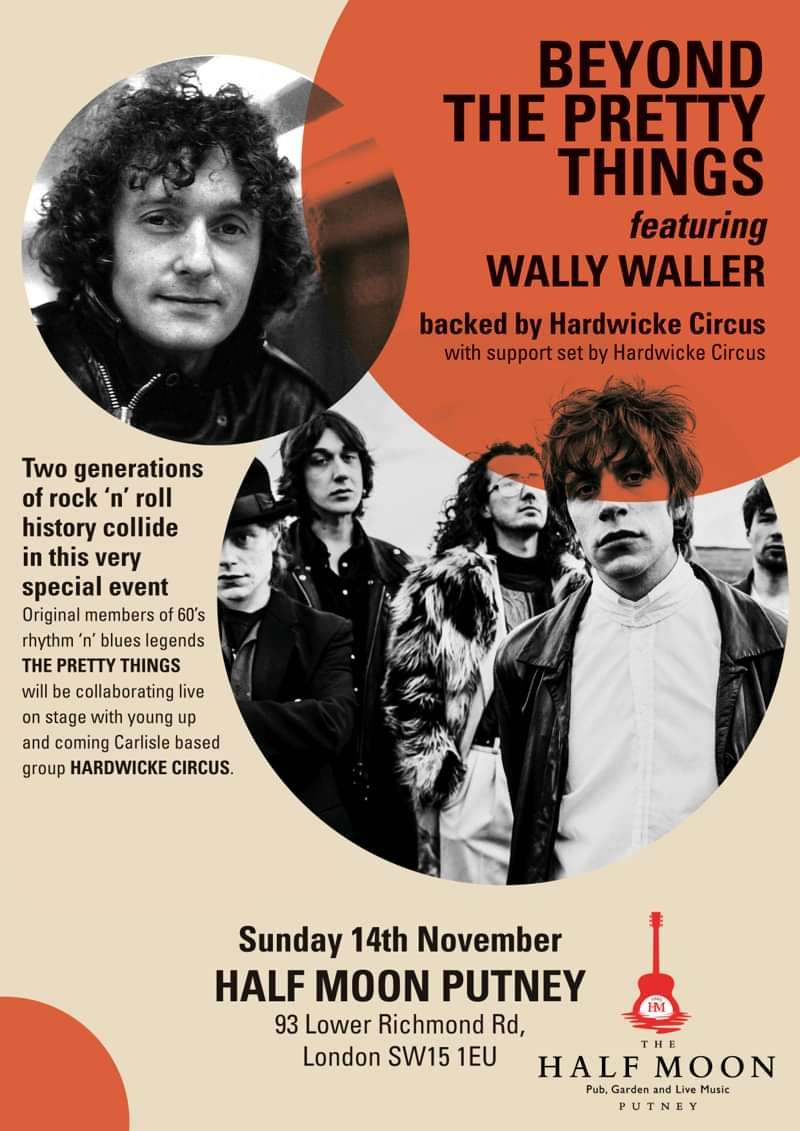 Half Moon presents:
Beyond the Pretty Things
Beyond The Pretty Things + Hardwicke Circus
£16 adv / £18 door
Entry Requirements: 18+ after 7pm
General Admission (e-ticket)
To many people, The Pretty Things were more than just a band, although their writing, recordings and performances touched many people through the years. They were an ethos, and a spirit that inspired many in their wake. There could never be a Pretty Things line-up without co-founder and mentor Phil May (1944 - 2020), but the spirit lives on, not least through Phil May's oldest friend (bosom buddies since the age of 4) and fellow band-member: Wally Waller.
When original Rolling Stone, and other Pretty Things' co-founder Dick Taylor left the band for 10 years in 1969, it was Wally that stepped up to the plate and together with Phil, and under the guidance of producer Norman Smith (The Beatles, Pink Floyd etc.,) they wrote and produced what is arguably The Pretty Things' best finest ever album: "Parachute".
Wally still has plenty of gas in the tank with new songs and ideas flowing freely. With full legitimacy he still plays many of the Pretty Things' songs he helped to create, and also some exciting new repertoire that springs from the same font.
Wally has recruited young Carlisle band Hardwicke Circus who have been in-fluenced by the Pretty Things among others and will back Wally on a set of dates billed as "Beyond the Pretty Things" in November.
Line Up
Meet the seven-piece band who are not only turning heads with the confident glide in their stride, they're literally bulletproof.
Right now, on the highways and byways of this United Kingdom, the members of Hardwicke Circus may well be speeding to their next gig location in their customised police riot van. Even if it's a bit cramped in the back there, this band's mode of transport is as distinctive as their exciting sound, and yes, it's bulletproof. Not to mention that as they motor along, they're fuelled by their own award-winning blend of coffee. More of that to come. You certainly can't say there aren't some unusual angles to this story. With every new show, more and more fans get on board, because this is a group where there's so much to watch as well as to listen to. The focal point of it all is lead singer and chief songwriter Jonny Foster, who draws the eye as he exudes all of the 'Brown Sugar'-era swagger of Jagger. But on stage and on record, there's also an echo of the energy of such modern-day heroes as Arcade Fire.
"It's a very visual thing, and I think people like to see the seven of us on stage," avows Foster. "You don't really find that in modern bands. I've always liked the big band and I always aspired to play in one, with cinematic songs. To have seven people channel that same vision, I think we're really lucky."
"The bands I'm into and the singers I like, it's always 'Do they have something to say." That's the attitude I take. If you've got that, it translates on stage. Yes, it's a performance, but at the same time, there's something quite sincere about it. You completely immerse yourself in that lifestyle, and all the bands we're into have that ethos."
Proudly based in the historic town of Carlisle in Cumbria, in the north-west quarter of England, that motoring theme continues when you know that the band are named after a famous roundabout in the town. "Three years ago," recalls Jonny, "we were under a different name, then we got a group of songs together and realised that with this new direction, we needed to change the name. There's an art and performance thing about the name Hardwicke Circus, which we like."
It's not just their ever-expanding army of fans that are voting with their feet. The band have the enthusiastic support of a remarkable triumvirate of rock and pop production gurus. In the spring of 2017, they served notice that they were speeding ahead in the outside lane with the 'Social Music'EP, and that was just a taste.
They're following it up with another four-tracker featuring the studio expertise of Peter Collins, the vastly experienced producer of countless giant names from Bon Jovi to Alice Cooper to Rush; Stephen Lipson, similarly respected for his work with the likes of Annie Lennox, Grace Jones and Frankie Goes To Hollywood; and Chris Tsangarides, whose resumé stretches from Thin Lizzy to Depeche Mode.
The lead track from the new EP, 'Please Don't Try This At Home,' was produced by the Nashville-based Collins with the band via Skype. "We sent him a live feed, and he was on the iPad," explains Foster. "There was a seven-second delay, but that made for good craic! Then we did 'Nobody Loves You' with Stephen and the other two tracks with Chris. They were all really happy to get involved with it."
The band's story begins with Jonny and his younger brother Tom, their drummer, making a lot of noise. The older sibling tells the story with style. "We've been playing together from a young age," says the frontman. "Our parents let us make us much racket as we needed to, in the attic of our house in Carlisle, and we were jamming songs by Led Zeppelin and Jimi Hendrix."
"We did our first ever gig at our primary school. Every year they'd do a musical evening and invite all the parents. The music teacher taught the class acoustic guitar, and me and Tom come from the attic and play 'Teenage Kicks' by The Undertones. The headteacher was called Mrs. Baskerville, and she was horrified by the whole thing, so her name was apt. It started from there."
"Then it was being on the holiday car drive with our parents, and they'd play the likes of The Band and Springsteen and Otis Reading, all these great songwriters. When I went to secondary school I was always looking to get a band together, and that's essentially what Hardwicke Circus is now, a group of mates getting together to play good music."
Back home in Carlisle, they base themselves at the town's much-respected and long-established arts hub, The Source Collective. "We get touring bands, poets, theatre productions coming through, and this is where we hang out and focus on the writing," says Foster. "Then we can take whatever we come up with around the country. It's ideal."
Whether they're there or on the road, they have their very own coffee brand to power them on. It was created by the local company Bruce & Luke's, whose Foxes Cafe has long been a favourite haunt of Jonny's. "They started doing their own coffee blend, so we had this idea of making a Hardwicke Circus coffee, something that will kick-start your day. When we're packing the van in the early hours, it focuses the mind and feeds the energies. It's just been awarded a Great Taste award, two stars, and in the food world that's prestigious. So it's exciting."
Hardwicke Circus have all the fuel they need, and they're on their way. "I've always had this unbridled ambition to write and perform music on a big scale, not to do anything by halves," says Jonny. "There's something to be said about a group of mates, seven in our case, with this vision that through our music we can do something special, and people can relate to it. (Paul Sexton, Sunday Times)