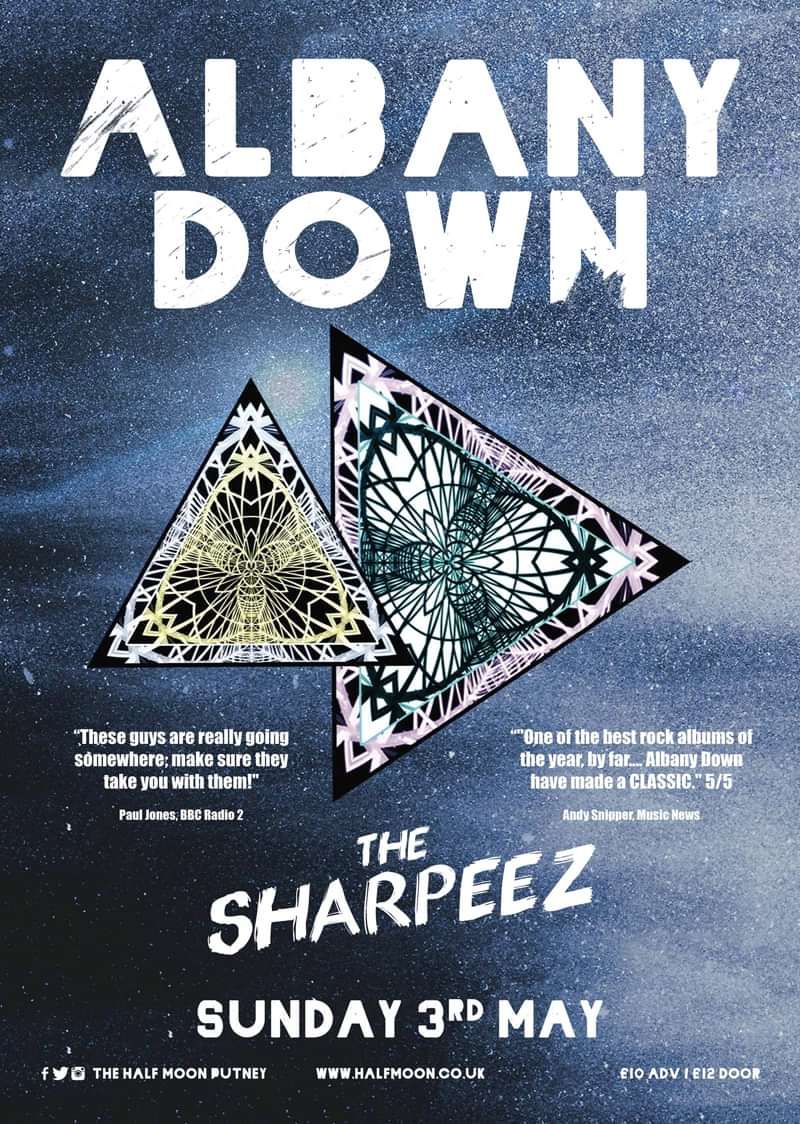 Half Moon presents:
Albany Down + The Sharpeez
Albany Down + The Sharpeez
£10 adv / £12 door
Entry Requirements: 18+ after 7pm
General Admission (e-ticket)
ALBANY DOWN is an original rock band based in Bedford with influences ranging from classic acts like Led Zeppelin and Thunder to modern bands such as The Black Keys and Clutch and they have recorded three highly acclaimed studio albums with producer Greg Haver.
In January 2020, The title track of their debut album "South of the City" was voted "Song of the Decade" by Severn FM , whilst the second album "Not Over Yet" achieved Number 2 position in the Radio Caroline Best album Top 40 and also achieving Winner of the International Song Writing competition (ISC) "Blues" Award for their song "You Ain't Coming Home". Their most recent album, "The Outer Reach" was a Winner of the UK Song writing Contest and voted No 5 Best Album of the year by Blues Rock Review.
The Sharpeez is a London based band, formed from the ashes of the 70s band Rebel, who mostly played in and around the London and Kent areas. Classic rock, west coast jangle and rootsy blues with attitude!
With the arrival of their latest album 'Wild One', The Sharpeez have evolved into a major force gaining great reviews. The band include and feature singer/songwriter guitarist Bill Mead and ex Sniff 'n' The Tears guitarist Loz Netto. The Sharpeez take no prisoners!!! Maximum RnB!!! The band enjoys an extremely busy touring schedule throughout the UK and Europe and is frequently described by Pete Feenstra as "the busiest touring band in Europe".
The Album 'Mississippi Thrill' was ranked at No 9 on the IBBA chart for the most played tracks by the Independent British Blues Broadcasters Association and the current album 'Wild One' eclipsed the previous album gaining even more critical acclaim.
Musical Influences include Rory Gallagher, Tom Petty, Robert Plant, Dr Feelgood, George Thorogood, Free and Bad Company.
Line Up
The material, the performances and the production all have equal importance across the new record, and Bill's innate story telling skills on the song writing side of things are most definitely to the fore.
Incendiary performances and the ability to connect with an audience of any size and age, to create a guaranteed electric atmosphere and lasting memories, sets this outfit apart from their peers on the blues and rock circuit.
The individual musicians in the line-up have fabulous playing pedigrees, but as a unit they have chemistry you could cut with a blunt knife! There is palpable chemistry with these four remarkably versatile and vastly experienced individual musicians – but as a unit under The Sharpeez banner, they are a formidable force. The band's sound unashamedly nods towards their main influences such as Rory Gallagher, Dr Feelgood, Tom Petty, The Rolling Stones, George Thorogood, Paul Kossoff, Paul Rodgers and Andy Fraser. But they most certainly tread their own path musically, and regularly achieve extensive radio airplay worldwide.