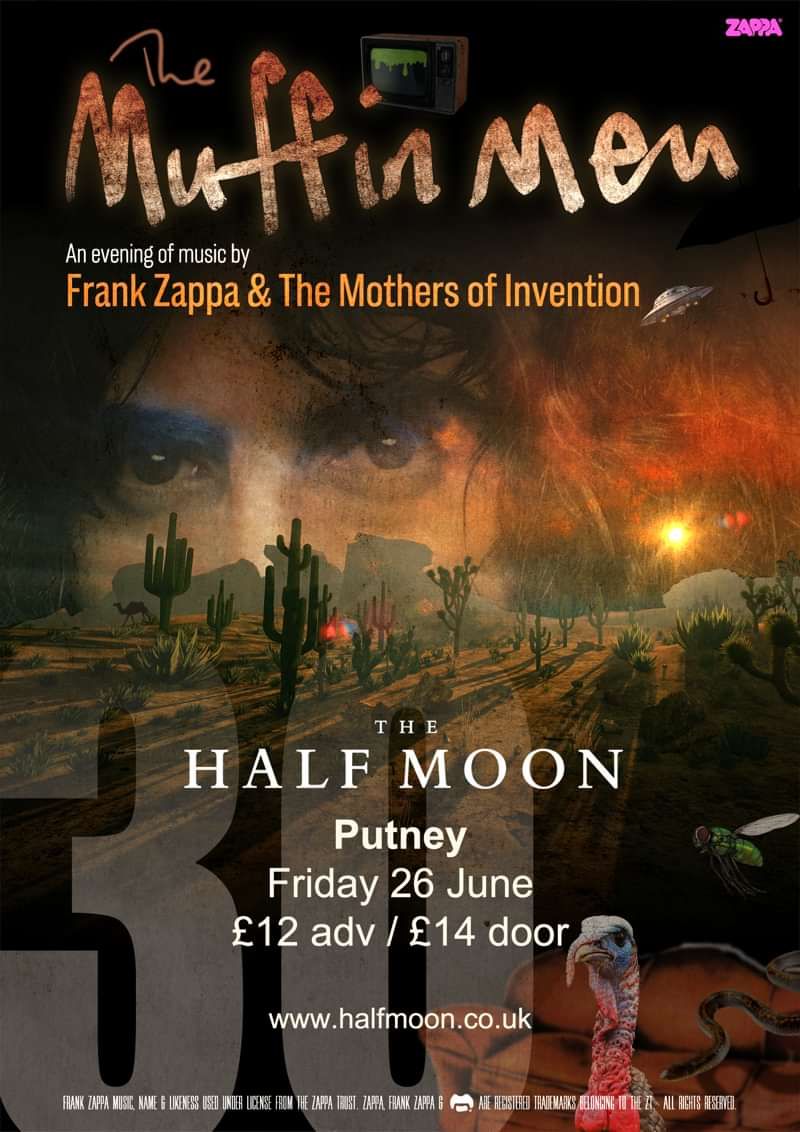 Half Moon presents:
The Muffin Men: Play Frank Zappa and The Mothers of Invention: 30th Anniversary Tour 2020
The Muffin Men play Zappa
£12 adv / £14 door
Entry Requirements: 18+ after 7pm
General Admission (e-ticket)
The Muffin Men: Play Frank Zappa and The Mothers of Invention: 30th Anniversary Tour 2020
Originally formed in Liverpool in 1990 for a one-off show to celebrate the 50th birthday of Frank Zappa. The band have gone on to play countless shows around Europe, often featuring guest appearances by many ex-Zappa musicians.
The 2020 line-up features five original Muffin Men playing a wide variety of songs and instrumental favorites from the vast repertiore of one the of Greatest American Composers of the 20th Century. Rock, Jazz, Fusion, Boogie and Blues, mixed with a liberal pinch of British Humour.
For the 30th Anniversary Tour The Muffin Men are pleased to announce their agreement with The Zappa Trust for their performances of Frank Zappa Music.
Don't expect a look-a-like tribute band, Expect to hear some favorite Zappa/Mothers played with spirit and adventure.
Line Up
The Muffin Men play Zappa/Mothers celebrating 30 years of operations
Back to the roots, the 5 piece Muffinz featuring original members. Performing many of the original Mothers of Invention arrangements, along with some favourites from over the years.
————————————————————————————————————————————
Muffin Men Press info
The Muffin Men: 28th year of operation playing Zappa/Mothers
Celebrating 28 years on the road around Europe.
The MufFinZ quintet, featuring 5 original members.
This tour will revive many Mothers of Invention pieces, along with others Zappa favourites.
The Muffin Men have played over 2000 dates around Europe, often featuring ex-Zappa alumni. The band play their own arrangements of Zappa material, along with some note-for-note versions of some favourites. At least 12 ex-Zappa musicians have performed with The Muffin Men over the years.
Press release, January 14th 2018
DO YOU KNOW... that one of the oldest and most durable "tribute bands" in the music business – formed long before the term "tribute band" was coined – was formed and remains based on Merseyside?
Do you know... that they first performed the music of frank zappa 25 years ago at the legendary rock venue "The Black Horse and Rainbow", Berry St, Liverpool, on the maverick composer's 50th birthday?
Do you know... that since then they have played thousands of shows throughout Europe, in venues ranging from tiny bars to Liverpool Philharmonic Hall and Glastonbury world stage, and have meanwhile released over 20 cds and 4 documentary dvds?
Do you know... that they have worked and toured alongside many of Frank Zappa's former band members, and that they have been referenced in several standard texts regarding Zappa's music?
Do you know... that they celebrated 25 years of operation with a special 3 hour party gig at the world Famous Cavern Club on Sunday December 20th 2015, it featured 15 past and present members and played to a sell out crowd?
Do you know... the muffin men?
Wikipedia - https://en.wikipedia.org/wiki/Muffin_Men
facebook group - https://www.facebook.com/groups/144945955537278/?fref=ts
you tube - https://www.youtube.com/user/oldgreygoat/videos
for further information, contact -
roddie gilliard
phone - 07976 891474 email - roddiemuf@hotmail.com