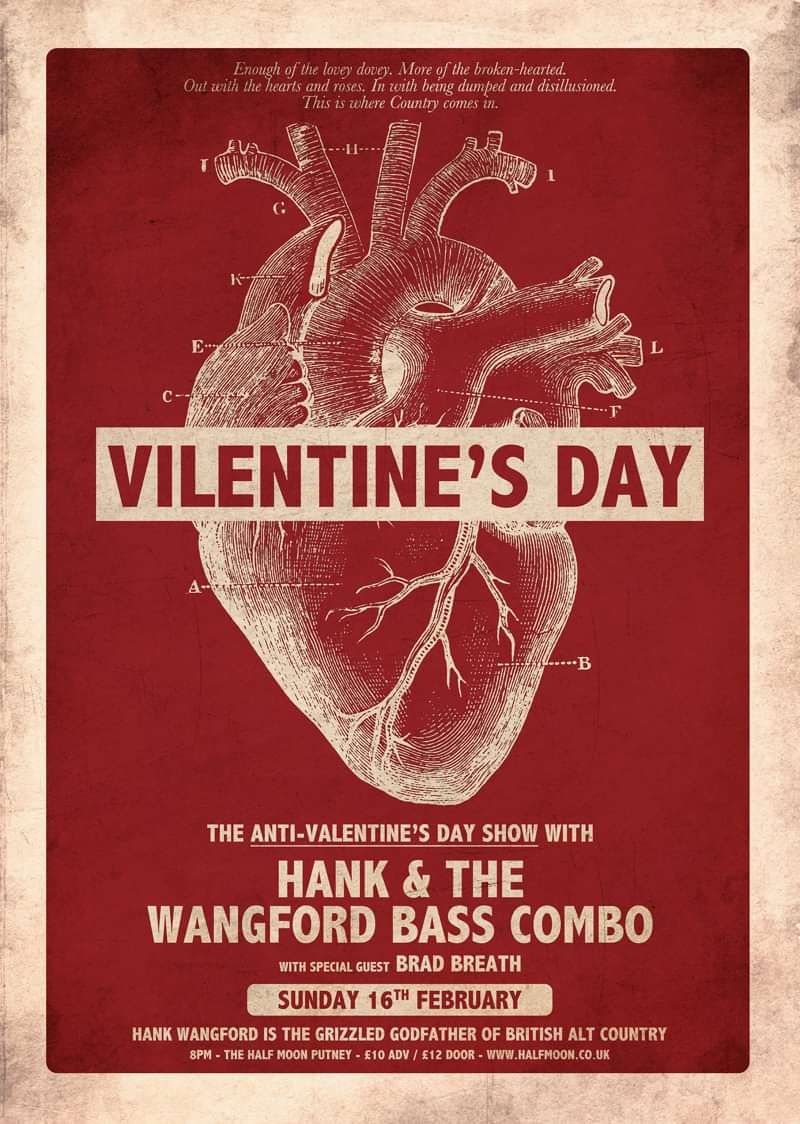 Half Moon presents:
VILENTINE'S DAY - the Anti-Valentine's Day show. With Hank & The Wangford Bass Combo & special guest Brad Breath (Andy Roberts)
Hank & The Wangford Bass Combo & special guest Brad Breath (Andy Roberts)
Cancelled due to illness
Entry Requirements: 18+ after 7pm
Please note unfortunately this show has been cancelled, message from Hank:
"Trying to recover from some menfolk surgery in January I got damaged in hospital and last week had a massive bleed. Don't do things by half as y'all know - I lost 40% of my precious haemoglobin in 24 hours. So they took me into hospital, transfused me four pints of blood, irrigated me, banged me whanged me, bumped me and pumped me. But they brought me back from ghostland to almost aliveland.
Anyway, I'm on the mend and my ol' bone marrow is banging out the corpuscles for all its worth. But the hospital tells me don't even think of gigging this weekend. So I've had to cancel Vilentine's for this year down at my lovely Half Moon and even the day after at The Greys in Brighton. I'm real sorry cos I hate pulling gigs but I've been told I'm just not allowed.
Anyhow we'll be back in a month on Sunday lunchtime on the 15th March with the whole band.
We'll be rocking and hope you will be too. And we'll be closer to Holey Holey the new album.
Keep yodelling! Hank x " 🌵👍🌵
Line Up
If Daniel O'Donnell is the brightly scrubbed face of British country music then Hank Wangford is its guilty conscience, its dark and troubled grubby soul. Hank has picked at the miserable underbelly of country music for twenty eight years, inspiring others like Billy Bragg, The The, The Alabama Three and other alt.country musicians.
He has spread the word with his two ground breaking television series, Britain's first on Country music, "Big Big Country" and "The A to Z of C&W" and his books "Lost Cowboys" and "Hank Wangford Vol 3 The Middle Years".