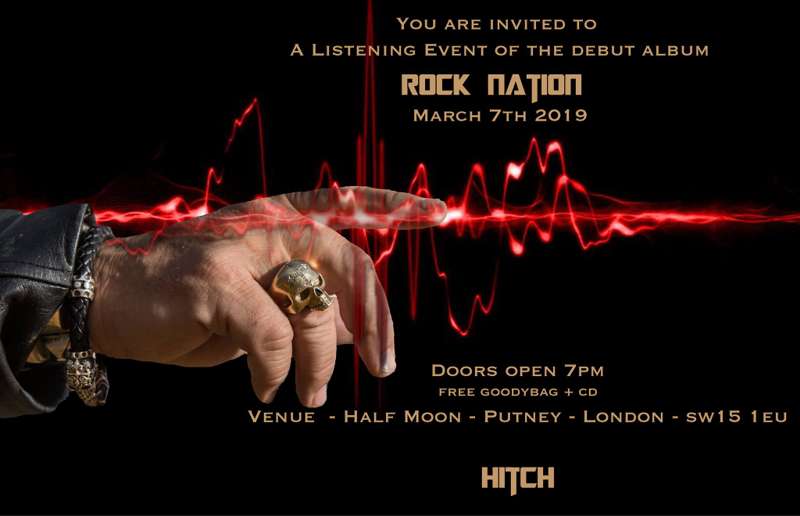 Half Moon presents:
Hitch - Listening Event of debut album Rock Nation
Hitch
FREE ENTRY
Entry Requirements: 18+ after 7pm
Loud and proud Hitch the British born Heavy Rocker has followed his dream. His debut album Rock Nation will be launched on 8th March by DMI Records and CD Baby. 10 years in the writing and production, it is a masterpiece!!
"Rock music unites and inspires many people. Rock Nation is a battle cry to throw away your anxieties and issues and to immerse yourself in the pure enjoyment of real Rock"
This free event features a live performance, album playback and videos.
Doors open at 7pm.
Line Up
Hitch is here to tell you that yes, you can. Hitch wanted to…wanted to since he was a small boy wandering in Aigburth Liverpool, UK, feeding off the energy and excitement of heavy rock'n'roll. Hitch wanted to…ever since he saw Richie Blackmore atop a precariously-balanced speaker stack at the Liverpool Empire Theatre, riffing like a madman as a dangerous fall beckoned. Hitch wanted to…ever since the electricity of that moment, plus a live introduction to Judas Priest, infested every vein and pore of his body. And now? Hitch is. Hitch is doing it. Hitch will, and can, and does now deliver everything he absorbed, a man on a mission not just to his own self, but to rock'n'roll and to you. Because yes, you can be a rock 'n' roll singer, a rock 'n' roll frontman, a deliverer of true rock'n'roll power, passion and dreams.
Hitch's debut album Rock Nation is the culmination of a dream and journey which has seen him traverse great highs but equally incredible lows.
A childhood spent scally-wagging around the UK with friends in pursuit of that raw rock'n'roll electricity, aligned with a combination of youthful priorities meant Hitch did not immediately follow his heart. "I went to the Liverpool Empire and saw every heavy rock band that was touring," he says, "and I bought every piece of hard rock vinyl I could. It formed my love for music, and the seed of wanting to write and perform myself, but I was also chasing girls, playing sports, riding my trials bike and also suffering from the age-old "confidence" dilemma. The one where you think to yourself, "I couldn't do that could I?" As strange as it seems, I just did not have the confidence, and somewhere I convinced myself it, 'time to grow up.' "
A successful "straight" career started, Hitch finding that he did (in fact) have a natural ability to perform and communicate, one which helped him achieve some serious financial means. Valve boxes and equipment were bought, yet still that elusive final ingredient of true confident conviction eluded him.
In 2007, the "straight" wheels came off Hitch's wagon, and he found himself back to Top Ramen and scraping the rent. A small moment went his way, and he and his wife found themselves at a Genesis concert in Paris (Hitch had first seen the band at Knebworth in 1976). Air guitar ensued, and suddenly, his wife looked at him and said, "When are you going to learn to play the thing properly, and when are you going to just do it, because you can!!!!" Yes, Hitch thought, I can. It was a lightbulb moment. And so with perhaps only a small stack of pots to piss in, Hitch decided that whatever else happened in his life, he would. Because he could.
As Hitch went about getting back a kitchen for those pots, a house for that kitchen, and assets for his life to be what he wanted it to be, he learnt to play drums. Then guitar. Then how to use the Logic program. An opportunity to move to Cyprus arose, Hitch moved and it was in the town of Frenaros that Launch Pad Studios was built. "I still had those old valve boxes and tube amps from years ago, so I was able to build the studio with access to both vintage and state-of-the-art digital facilities," he says, "and having that versatility allowed me to start exploring my lifelong passion."
Hitch became acutely aware that his deepest gift, and calling, was his voice. As a choirboy youth he had sung with the famous Liverpool Cathedral Choir, yet had never fully appreciated his own voice until now. Having established that he was going to be a frontman, Hitch hooked up with the supremely talented and experienced producer, writer and guitarist Clyde Ward (World Ward Productions). "His amazing knowledge and my amazing naivety is a great combination, a synergistic relationship," Hitch explains. "The sum of our two parts is much greater than the individual elements, which is not to decry Clyde who has done amazing things in his career."
The result is Rock Nation, an album soaked in the raw power of belief and bursting with the searing energy of electric heavy metal rock'nroll music in all it's blazing glory. The title track (also Hitch's second single) is a unifying rock song for a world which needs one right, the monstrously massive guitar riff a resounding statement of intent. "Another Hellish Night" is a lacerating nod and wink to Jack the Ripper-like serial killers, whilst "Anger Issues" addresses the pathos and absurdity of nosey celebrity culture. However, the inspiration behind the entire album is without any shadow of doubt the lady who told Hitch to stop air guitaring "My wife is the reason Rock Nation exists," says Hitch, "her belief, her support and her encouragement, even in the darkest times, are what gave me the impetus to follow through with this dream."
Hitch pours every last ounce into his lyrics. "I write emotional music with emotional words. The best songs ever written have one thing in common; they mean something to you. They intermingle with your soul, with your very being." Perhaps the biggest shock and subsequent star of Rock Nation, is Hitch's masterful cover of Dead or Alive's "You Spin me Around". "It is such a great and catchy song, we felt that we could give it a good ol' heavy rock redo and it would become a real head-turner, something cool and unexpected. So Clyde and I reworked it so as now the guitar track brings you into a whole different orbit."
Everything about Rock Nation and Hitch is very loud and very, very proud, including the live performance. "When we tour, I want our music to be delivered with the fire and visual pagentry it deserves," states Hitch," like Kiss, like Rammstein, like those early Rainbow and Judas Priest gigs I saw, just bringing the whole damn thing at a crushing volume for the eyes and ears."
If Hitch could only demand one thing of his audience it would be that they believe. "Do what you love. Why wouldn't you? This was a repressed life-long ambition and I decided to kick the "repressed" bit to the curb. Why can't you? Why can't anyone? Nobody should ever change themselves because of what others think of them or society pushing them. Be who you want to be and do what you want to do! And even if you don't like my music, I hope it will inspire you to be yourself and make your dreams come true!"
Hitch -and Rock Nation- are here to tell you that yes, you can…