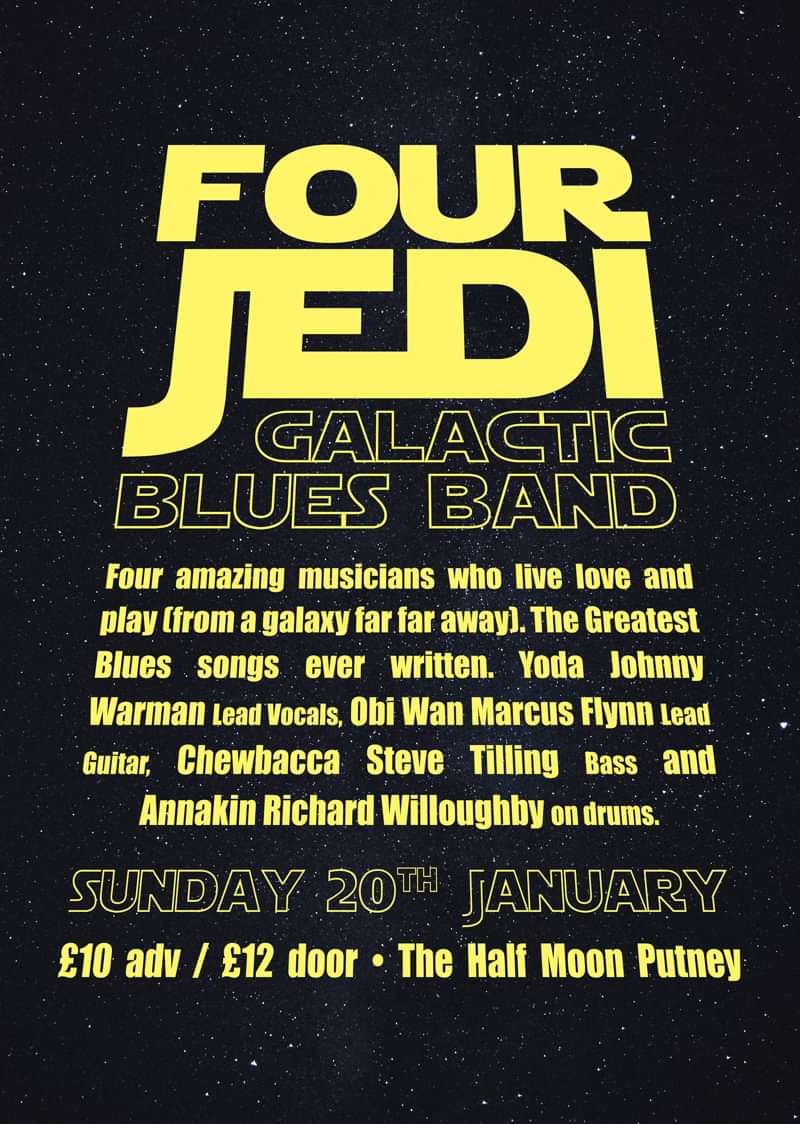 Half Moon presents:
The 4 Jedi's Galactic Blues Band
The 4 Jedi's Galactic Blues Band
£10 Adv / £12 Door
Entry Requirements: 18+ after 7pm
The 4 Jedi's Blues Band are simply 4 amazing musicians who live love and play (from a galaxy far far away) The Greatest Blues songs ever written. So come and hear them at The Half Moon Putney on Sunday 20th January 2019 and tickets are £10 in advance or £12 on the door. Yoda Johnny Warman Lead Vocals Obi Wan Marcus Flynn Lead Guitar Chewbacca Steve Tilling Bass and Annakin Richard Willoughby on drums. If you came to The Bluesbreaker Gig on November 22nd 2018/ for The Lizzy Bremer Legacy you will remember us as we blew the roof off the gig and this will be another opportunity to raise money for the Charity by contributing into the tin on the way in !!! and putting even more in the tin on the way out !!! before heading into outer space x Please spread the word as this is the finest Blues Band that you will ever hear x
Why not book a pre-concert table for dinner here
Line Up
ENGLISH SINGER-SONGWRITER JONNY WARMAN, BEST KNOWN FOR HIS 1981 ALBUM WALKING INTO MIRRORS AND THE HIT SINGLE "SCREAMING JETS"
The best musical years of our lives 1964 - 1970 where the World was changing and so were we.
COME AND RELIVE THOSE TIMES AND LOSE YOURSELF FOR 2 HOURS AS WE PLAY THE MUSIC OF THE ROLLING STONES THE BEATLES THE SMALL FACES THE KINKS THE ANIMALS THE ZOMBIES PROCUL HAREM JIMI HENDRIX T REX OTIS REDDING EDDIE FLOYD AND A FEW MAGIC NUMBERS SO THAT WE DO NOT GIVE IT ALL AWAY.